ZebraLight H502r Red AA Flood Headlamp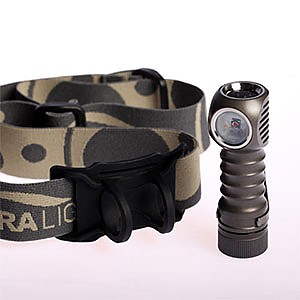 This niche headlamp / flashlight is best used for preserving night vision or for light sensitive operations such as for astronomy, in the dark room, maybe tactical operations, as it has only a single red led. It is a flood style lamp, so there is no focused beam.

While this lamp is a high quality product, I would not recommend it for most people due to how short the range is, it is enough for around camp, but no more. It really is a niche product.
Pros
Even spread
Easy to find in the dark
Can be used as headlamp or handheld lamp w clip
Potential for niche uses (astronomy, animal handling)
Excellent craftsmanship
Small & Light for a "flash light"
Rugged, Waterproof to IPX7 (2 meters, 30 minutes)
Cons
Short range
Heavy for a headlamp by S/UL standards
Expensive
The lamp turns on at full brightness by default
This light is best used for close quarters or in situations where a pure red LED is absolutely critical, like dark rooms developing film or tactical operations, astronomy, hunting, etc. There is no white light option (red is the only color).
The main idea behind this lamp is that you will not lose your night vision ability. The rod cones in your eyes will be ready to go once you switch off this lamp. Pretty much any whitish light (or any color other than pure red) will stimulate the cones in your eyes, it takes around 20 minutes+ to fully transition to night vision. So if you hike with others, it's probably a moot point if they're all beaming white lights everywhere. But if you're alone, or it's after hours and everyone's asleep, this lamp may be useful.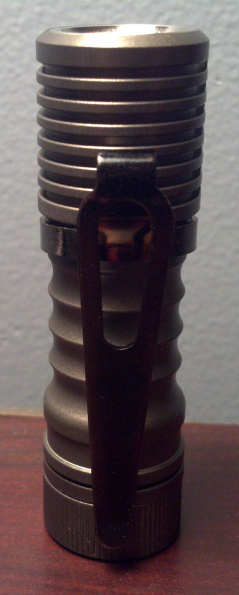 The range is perhaps 50 yards/ meters (a very loose estimation). You will not be able to see things well at about 100 yards or more. Red light does not reflect nearly as much as white/green/blue light does from the environment. The red is the closest thing to black in the visible color spectrum for humans.
When I tested this lamp I was walking some trails in the Arches National Park and could not see the pilings, and they could not have been more than 50-100 yards / meters away. Luckily I had brought my Black Diamond ReVolt headlamp with me, and was able to see better with the spot light, and even with the flood lamp (white reflects very well).
In order to see what you are doing with a red lamp, you have to crank up the luminosity, and that can drain the battery faster. That being said, I have used this lamp bicycling in the evening, and it worked well for that. I have used it as a strobe facing forward as well as backwards while biking. When facing forward I noticed that I could see the reflection of the red much father than I expected, even with mixed lighting from street lamps diluting the effect, I could see reflections around 200 yards / meters. So you should be able to see the reflections in the eyes of animals if you are on the trail with these.
The battery life was superb, I'm still going strong with my first battery. Granted, I've not used it much on the trail once I realized how limited the range is. I prefer to use it as a reading head lamp now, and roaming around the house at night. While this lamp is bigger than the typical ultralight packer's keychain light, I love how small form it is, wrapping around basically one AA battery, which also happens to be the most economically priced battery. On the manufacturer's website it mentions that it works with Samsung Enloop batteries. I also entertained the idea of possibly using Lightors Monster Batteries with these on the trail.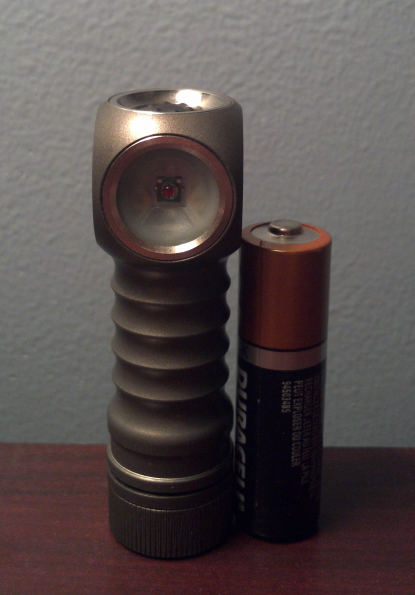 The lamp has some customization in the programming of the luminosity of the light. It's difficult to explain, but there are basically two parallel sets of configurations that are independent of each other, you can use one set or the other at a time. The first set is the default and you cannot change this set. The second set is all yours to configure. Basically there are three overall tiers of brightness, and in each tier you have a limited amount of brighter and darker values that you can set in place of the default I there are about 3 or 4 steps in either directions for any given tier.

For example, I was able to make what would be the low light tier on the default profile, even lower on the customized profile, and the highest light tier equivalent on the default profile even brighter. So, with this in mind, I would suggest making them all lower than the default profile (if you want to squeze every last drop out of that battery) or all higher than default if you want to see better, or a mix depending on your use.
Personally I set it so that the low tier was as low as I could go while still being usable (it can be as dim as one piece of ember!), and the medium tier I pushed a little brighter because I didn't want to have to resort to the brightest setting to see what I need to see, and the high brightness tier I set to brightest for maximum range for trail/piling searching. It's not difficult to set up. It takes a little practice and that is all. Do it in your home before hitting the trail and read the manual.
The biggest design flaw in my opinion is that the brightest level is triggered when you click on the lamp with one click. This is really easy to forget when in the mental fogginess of night or weariness, and you will blind yourself with pure luminosity. You can click and hold, and in this way it will start with the low brightness tier, then medium tier, and then finally high tier, but yeah, when we want to click it on, we click it once, that's just common sense. I wish they had designed it so that one click would start it out at the low level setting. There is no way to adjust this behavior out of the box.
Construction is top notch. I have not used it enough to comment on scratch resistance of the glass, but from what I've seen I think it would hold up really well. The body is also very solid, and with such a simple screw able base design it appears to be bomb proof. Other than the glass, I think the only realistic point of failure is the clicker, and that will last some time yet if the advertised 200,000 cycle operating life of the clicker holds true. It does feel durable.
The spread is one of the best I've seen, and the parasitic drain on the battery is negligible making this a fantastic lamp for someone's toolkit or backup/emergency light.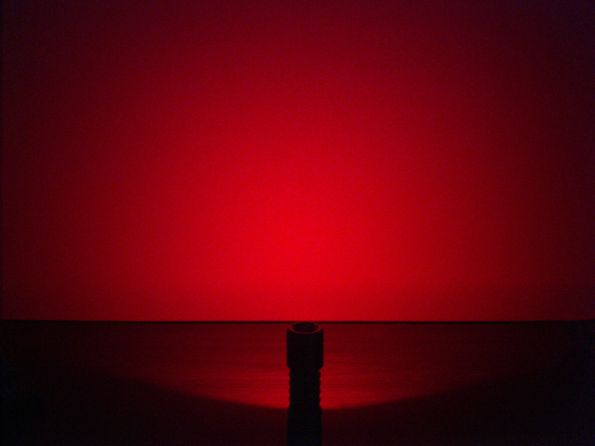 All in all, I think if you've been hiking all day, the color of your lamp is probably not going to affect your quality of sleep by much.
Asides from the niche use of this lamp, it is very slick, I love the simplicity of using 1 AA battery at a time, and even though the LED is red, the rim around the LED light glows slightly fluorescent green in the dark making it easy to find in the dark or in your pack or wherever you set it down, a really nice touch.
The lamp can be clipped (as in the first picture) or worn with the provided headband. I prefer to wear it as a headlamp but like the versatility of being able to pull the lamp out and use it as a flash light if I want to. I had no issue with it in this respect. I thought that having the light offset from the center of my head would bother me, but surprisingly it was a boon, because the reflected glare on surfaces such as windows or water, was much less severe. I found the headband comfortable enough, and this was my preferred method of wear, especially since I'm deaf and signing properly takes both hands (signing with one hand is like talking with your mouth full). I have not tried wearing it in the clip, so I cannot comment on if it the clip loosens over time or if the lamp will stay firmly in there.
I have used this while brushing my teeth in the bathroom, with my Black Diamond ReVolt I have to flip the headlamp so that it is pointing at the ceiling because the glare is too harsh, and the red LEDs on that lamp are not dimmable. This is where this ZebraLight really shines, it is the most comfortable headlamp for night time I have come across between it's visibly perfect spread and how dim you can make the light.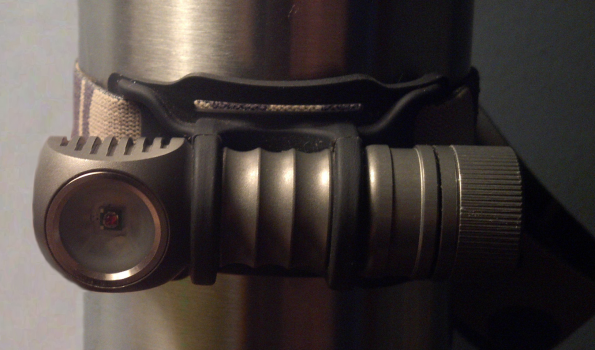 To wrap up I would not recommend this lamp for most people, unless you are involved with a niche activity (astronomy, dark room, handling animals at night).

I own the Petzl E+LITE and the Black Diamond ReVolt. I ended up going back to my Black Diamond ReVolt, as my all-around-use headlamp, but it was with some grumbling and shuffling of my feet as it is not nearly as pleasant to read with the red led on the ReVolt, this is because there are two leds, thus the spread is not even, with visibly differing shades radiating outwards.
The bottom of the line was this particular lamp was not versatile enough for me to use in a multi-sport capacity, and range was what really ended it for me as a serious contender for backpacking/hiking use. However, if one of you does astronomy, or work in a dark room, I would take a look at this since there's no way you can screw up and accidentally turn on a white light.
I am giving the Zebralight H502r Red AA Flood Headlamp a 4.5 star rating as it is very good at what it was designed for, but it was not adequate enough for me to serve as my primary go-to lamp.
I encourage people to explore other lamps made by Zebralight, you will most likely be satisfied. Only choose the red one if participating in niche activities, and even then, explore what other options out there will meet your needs and ensure that this is the appropriate choice for you. The lamps by Zebralights are extremely well made.

Update 12/03/2015: While editing this article a wishful idea occurred to me: what if Zebralight made a floody style light with the primary set of controls as operating a white led, and then the secondary set of controls as red, and made them both customizable? That would be epic. I would snatch that up immediately.
Source: bought it new
Price Paid: $69

Your Review
Where to Buy
Help support this site by making your next gear purchase through one of the links above. Click a link, buy what you need, and the seller will contribute a portion of the purchase price to support Trailspace's independent gear reviews.
You May Like
Specs
| | |
| --- | --- |
| Price | Reviewers Paid: $69.00 |