Zelph's Stoveworks Venom Super Stove

The Venom Super Stove has been discontinued. If you're looking for something new, check out the best alcohol stoves for 2023.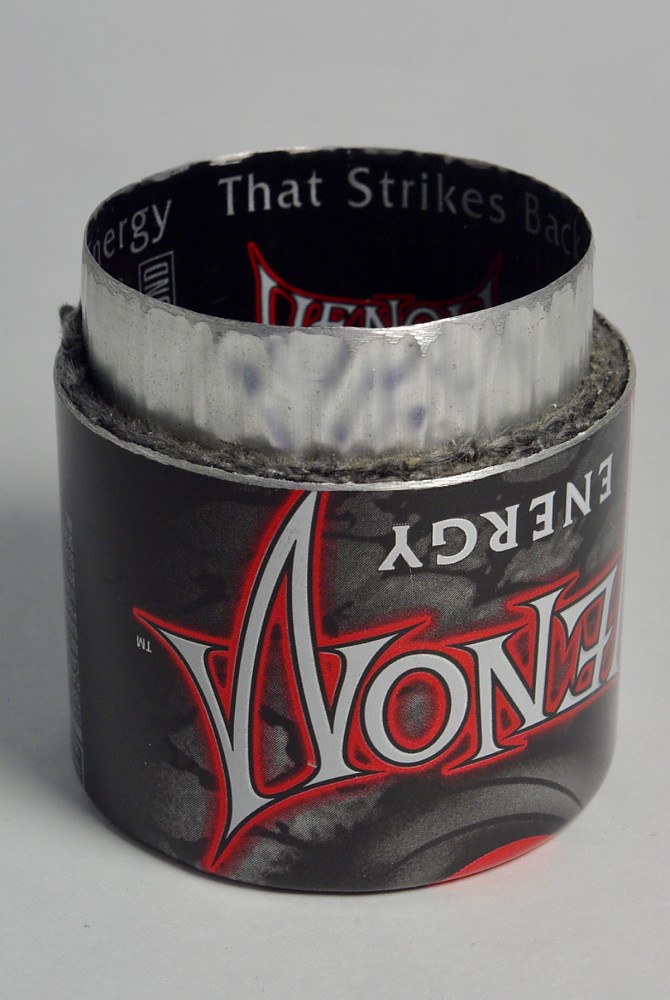 This is the Zelph Stoveworks Venom Energy alcohol stove. Best use is for re hydrating meals or making drinks that require boiled water only. There is no simmer option.
Pros
Ultralight
Sturdy
Little fuel use
Pot stand is integrated
Fuel is widely available
No hissy fit canister noise
Cons
No simmering allowed
Requisite skills needed for optimal boil times
This is a Zelph Stoveworks Venom Energy alcohol stove (http://www.woodgaz-stove.com/).  It is made from a Venom Energy drink can. Zelph has figured out a way to draw the can inwards on itself without deforming the aluminum. Pretty neat actually. Denatured alcohol or Heet can be used with this stove.
These types of fuel can be found in hardware stores, automotive stores, Walmart, etc. The yellow bottle Heet (https://www.goldeagle.com/product/heet-gas-line-antifreeze-water-remover/) is preferred over the red bottle. The yellow bottle is cleaner burning fuel.
Good thing about these types of stoves is the simplicity, obvious weight savings and compact size. If you are only needing to boil water, an alcohol stove is great. The user must have some skill in using this stove to achieve optimum boil times and of course, alcohol is highly flammable.
If frequenting areas that have high fire danger or burn restrictions in place, as sometimes areas in the Southwest often do, this stove might not be a viable option and a canister stove is necessary due to the ability to immediately cut off the flame. With that being said, here are the stove stats:  
Height: 2.5 inches
Diameter: 2.5 inches
Weight: 1.7 ounces
Time to boil 2 cups of 55 deg F water: 9 minutes
Total time to flame out: 11 minutes
Fuel used: one half ounce of denatured alcohol
Fuel capacity: 1 ounce
Elevation: 955 feet ASL
Keep in mind these are controlled conditions. I was in my garage and there was no influence from wind. I used a titanium pot. Different pot metals can affect boil times. When I use the stove under normal conditions, I'm using a windscreen as well. My boil times will vary also.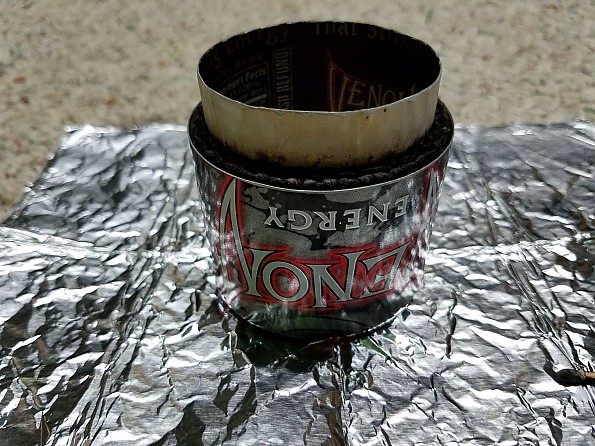 Carbon felt is the wicking material which is somewhat visible in this photo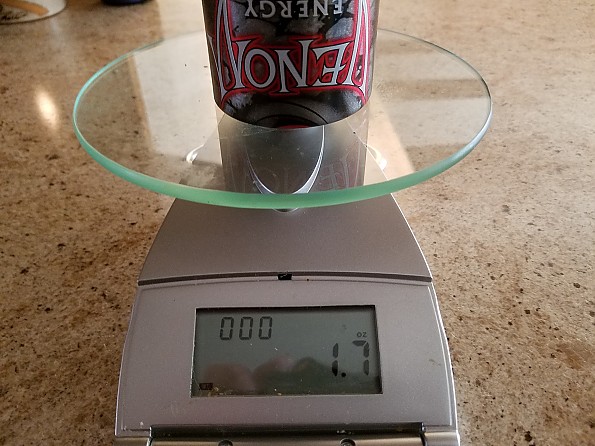 1.7 ounces
The "inside" of the stove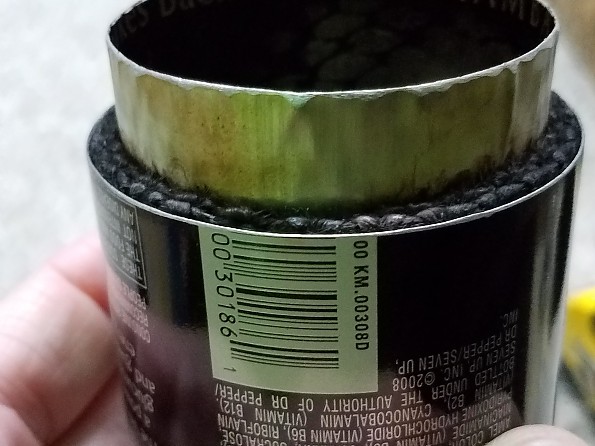 Fuel is added above the bar code area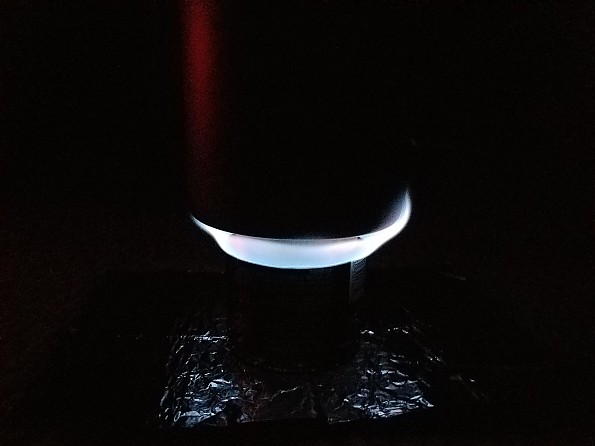 Nice flame adjusts itself to the pot diameter
It took 9 minutes to boil 2 cups of 55 degree F water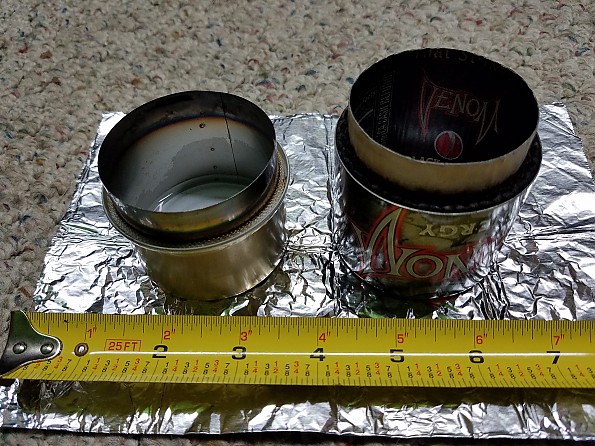 Fancee Feest and Venom Energy side by side
Source: bought it new
Price Paid: $9

This is a Zelph's Venom Super stove. Its whole intention is to boil water. It's not made to simmer. It's lightweight and fits for ultralight backpackers where alcohol stoves can be used.
Pros
Light
Fuel is easily acquired (Yellow can Heat and Denatured alcohol)
Boils water
Less cost
Cons
Wind at times
No simmering like a canister
Longer cook time
Banned in some National Forests or areas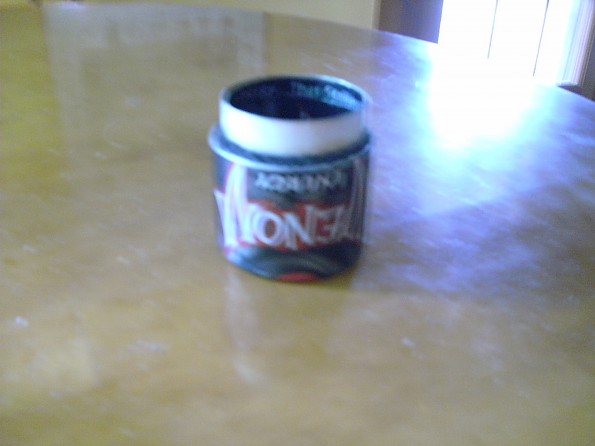 Venom energy drink can is the outer cap of the stove. It's fitted with another light aluminum gage metal to create the inner ring of the stove. A wick made of carbon felt. The fuel gets poured when cold on the carbon felt and it's absorbed once the stove is lit.
A flame will engulf around the perimeter of the stove. It will be hard to see during daylight. I just use my hand to feel for some heat coming off the stove.
Alcohol stoves take a little bit of time to get used to and how much fuel you use. This is a pretty easy stove to use. With a few times practice I was able to hike 400 miles using this stove.
Alcohol stoves you need to get used to using as much as a canister stove. No moving parts, but fuel consumption is your biggest learning hurdle—looking and finding a good level area. 
Boil Time: 9 mins

Fuel used: 1 ounce

Height: 2.5 inches

Diameter: 2.5

Weight: 1.7 ounces 
As of now I have looked at Zelph's website, and I don' t see this stove. I don't know if he stopped making it. He still has stoves listed for sale.
Source: bought it new
Price Paid: $9

Your Review
You May Like
Specs
| | |
| --- | --- |
| Price | Reviewers Paid: $9.00 |
| Weight | 1.7 oz / 49 g |
| Height | 2.75 in / 70 mm |
| Diameter | 2 9/16 in / 65 mm |
| Fuel Capacity | 1 oz / 30 ml |
| Materials | Heavy-duty aluminum body / Made of a single piece of aluminum/no seams / Integrated pot support / Fiberglass wicking material |
| Boil Time | In ideal conditions, in an aluminum 2 1/2 cup pot, it boils 2 cups of water in 7 1/2 minutes using 3/4oz of fuel. |
Recently on Trailspace