Zpacks Duplex Tent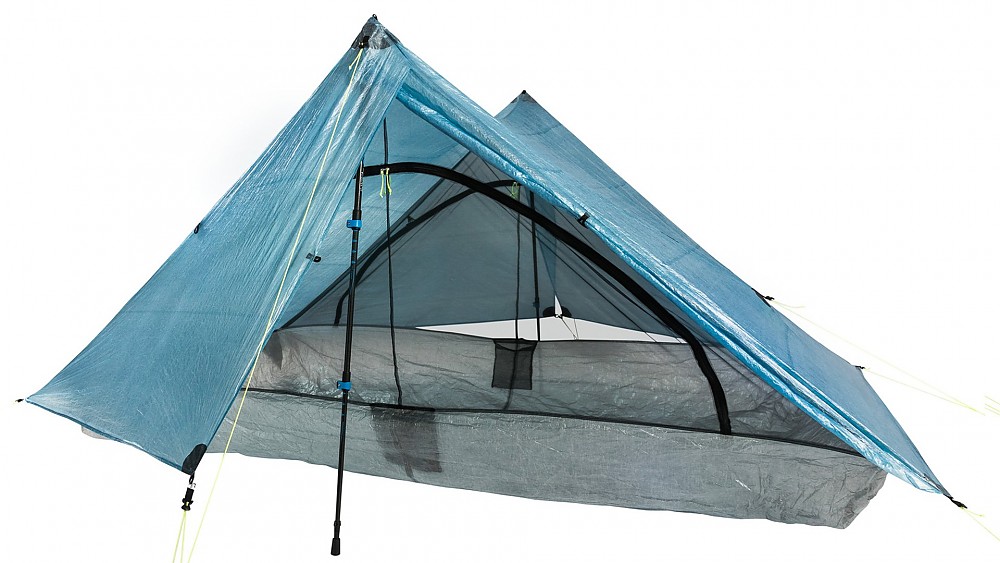 Overall it is a great tent—roomy, light, and comfortable both in the desert and above 12,000 feet. Sturdy when pitched well and stands up to storms (though you will notice tiny micro-holes appearing after moderate use). I used this tent for six months (April-September) while hiking the PCT, and I'd make the same tent choice again.
Pros
Ultralight
Compact
Comfortable for two people (a castle for one)
Keeps you dry
Cons
Micro holes appear after moderate use
Guyline exterior can rip if rocks are needed to pitch tent
Very expensive
Sleeps cold during shoulder seasons
 Duplex setup in sand with rocks: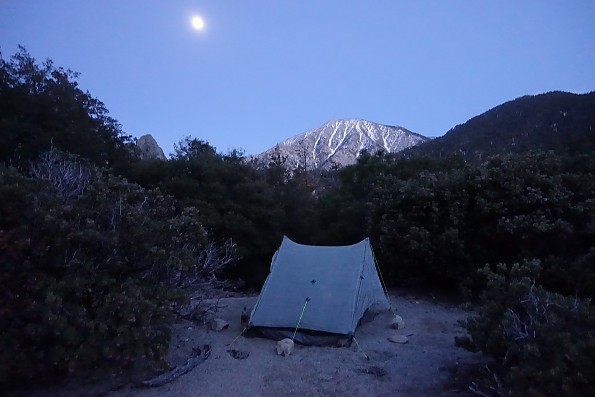 Is it worth the money?! Yes—IF you plan on getting A LOT of use out of it, or if lowering your base weight is very important to you. Both were true for me and I really liked this tent.
Comfort: Very comfortable for one person—comfortable for two with room to store gear in vestibules if storm doors are closed. I am 5'9" and it was plenty long enough for me. I bet if you are much taller than 6'2" or 6'3" you will run into issues with you head or foot box of your sleeping bag getting wet from touching the slopped roof of tent. 

Setup: Easy to set up after you get the hang of it. Only six guylines are needed for a great pitch. If you have never used a non-free standing tent before, your first few attempts may be uneven/less than perfect pitches, but small adjustments to a pitched Duplex often do the trick.
If you are camping on hard rock or on soft soil, rocks can be used to fix guylines instead of stakes, however if you are using rocks during a storm or windy conditions the guylines can begin to fray due to friction from movement against the rocks.
Stability: Very stable. I put this tent through extreme wind, rain, and two inches of snow accumulation and it never fell.
Whether Resistant: The ultralight nature of this tent, means you sacrifice a little bit of durability—this is demonstrated in the micro-holes that will (definitely) appear in the roof of the tent (especially near joints), however they are easily patched with the supplied Dyneema Composite Fabric repair tape or other sturdy tapes.
The bathtub floor does well to keep out rain and pooling water during storms. If pitched improperly there may be a gap in the vestibule doors where they clip together, resulting in some rain/snowfall inside the vestibule. It dries quickly in the sun and wind.
Ventilation: Excellent. The two large mesh sides, mesh above the bathtub floor and four doors allow for great cross ventilation, and you can choose your level of air flow v. warmth from closed doors. Of course if you are camping in a low-lying area near water, you'll get condensation. Because there is so much mesh, and the materials are light, it sleeps cold during the shoulder seasons—October is chilly in a Duplex if you are in a colder climate or in inclement weather.
Packability: Excellent. You can ruff stuff it into your pack or fold and roll it up so it is just larger than a nalgene water bottle. And no tent poles to pack :)
Ease of Use: Easy peasy. It's a simple tent with no frills so what you see is what you get.
Construction & Durability: For an ultralight tent, it does pretty well under heavy use. I mentioned the guyline and micro-hole issue above, outside of those issues it does well for a tent made of ultralight materials. After six moths of use I plan on getting a few more years of smaller trips out of it!
Conditions: I used this tent every night for six months in the desert, the high Sierra, and in inclement weather on the border of Canada. I plan to continue using it between the months of April-September. I'd find a different tent for late fall through very early spring.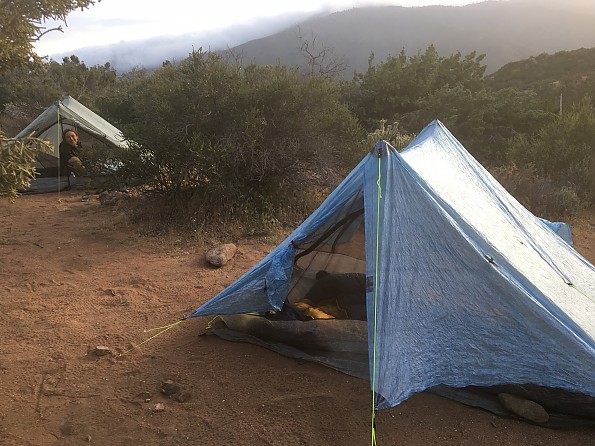 Tent braving a storm: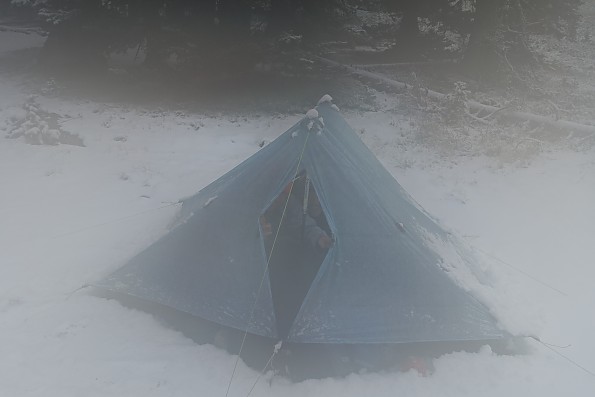 Can fit three (uncomfortably) in a pinch!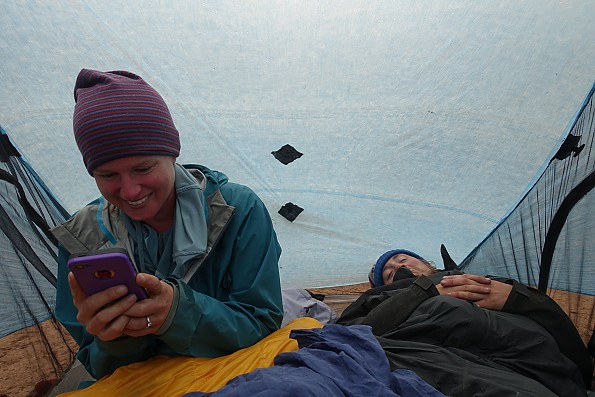 Source: bought it new
Price Paid: $600

This tent provides amazing space and livability in an ultralight package. It provides everything tents weighing three times as much do without really sacrificing anything. Very impressive.
Pros
Ultralight weight
Livability
Tight pitch when done well
Cons
High price
Not free-standing (but there is now that option)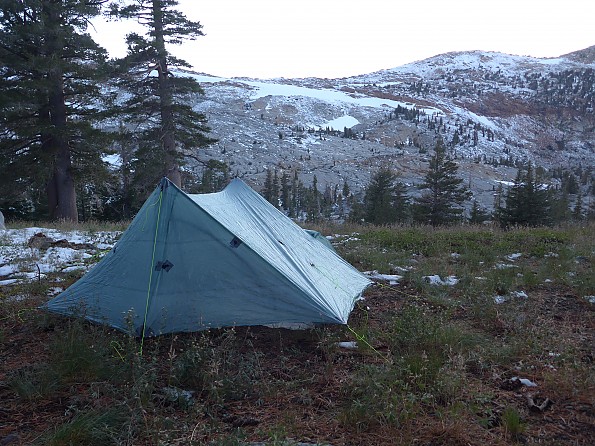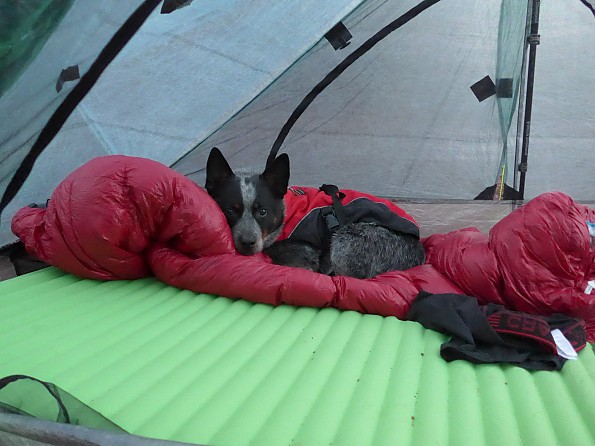 The Zpacks duplex is a two-person single-wall cuben fiber (now Dyneema?) shelter that weighs about 22 oz (without stakes or poles—but with all guylines). The amount of room you get for a tent this light is pretty amazing. It is a two-man tent - an like most ultralight two person tents, it would be a tight fit for two big guys. But it makes a palace-like solo tent at a weight that many other very small solo tents cannot match.
It is essentially a tarp-tent design that has a bathtub floor attached to the tarp by lightweight mosquito netting—so you are fully protected from bugs. Amazingly, it provides two doors at this weight, with zippered bug netting entrances on each side along with zipperless vestibule doors. The doors halves are designed so they overlap and are closed at the bottom with a clever little hook device and halfway up with a toggle and loop closure. I haven't been in the rain with it yet, but the doors look like they would be pretty weather tight if the tent was set up correctly and the closures were tight.
It is a basic A frame design using trekking poles. The tarp part hangs at least four inches past the bathtub floor all around, providing plenty of coverage for bad weather. You can lower the pole height to lower the pitch to provide a more weather resistant pitch, but I don't think that would be necessary unless it was a super windy storm. And because it is a single wall design, ventilation is important. I had no issues with condensation in temps ranging from 22 to 37 at night.
The tent is very "livable". It is bright—partly due to the almost translucent nature of the material—it lets in a lot of light. If you follow the pitching instructions, the center height is about 48 inches, so when you sit up in the center of the tent you have plenty of headroom. The bathtub floor is a little strange compared to a conventional tent design—because the floor itself is not really staked out—only the tarp top and door/vestibules are staked. Before you get your gear into the tent to weigh down the floor it can kind of billow around in the breeze. This is absolutely harmless, but is kind of weird at first.
The construction is top quality, with reinforcements everywhere they are needed. It comes with six guylines—for all the staking points—that have tensioners attached. I found the tensioners a little hard to operate with one hand. I almost always had to use two hands. But they seem very sturdy. Same thing goes for the screen door zippers - because of their lightness they pretty much require two handed operation.
The tent requires six stakes or anchors. There is no getting around that. You don't have the convenience of a freestanding tent. BUT Zpacks now offers a two pole set that makes the tent free-standing for folks that don't use trekking poles or who just prefer that convenience and don't care about the extra weight.
The newer versions have the loops required for the poles and I think Zpacks will retrofit previous models with the loops. The freestanding version has two long, crossing poles, that I would assume still require staking, but allow you to easily move the tent around and open up the full entry to the doors that are normally split in half by the trekking pole setup design. Pretty cool.
A really great feature (benefit) of cuben fiber for tents is that it does not absorb moisture like a silnylon material. You know how on cold mountain mornings your tent fly will be wet on the outside and you have to spend some time during the day drying it out? Never happens with cuben fiber because the material itself is waterproof so there is not a layer that absorbs moisture. I love that about the stuff and in my opinion that is something that makes it ideal for tents.
The floor is a heavier weight material and it seems to stand up to abuse very well. I've spent 11 nights in it so far and I never use a groundcloth. The other really great thing about cuben fiber is how easy it is to repair. Just slap some cuben fiber tape on a tear and it is about as good as new.
Of course, this tent is pretty pricey. That's the cost of going ultralight. But you are supporting a U.S. handmade product and it is an excellent product in design and execution, that's for sure. And Zpacks is well known for its personal service.
Of course it comes with a cuben fiber stuff sack and packs down pretty small. Because of the "crinkly" nature of cuben fiber, it seems a little bulky, but when you stuff it in your pack it crushes down really well.
One word of caution, I know the video on the website shows a guy they say is 6'6" in the tent, but I am 6'2" and when I am in a 20-degree sleeping bag I come close to touching the ends. I think I have about two inches to spare on each end. I think if you are 6'4" you are almost too tall unless you are solo and can sleep diagonally. For normal sized people the tent is plenty big for two, and really big for one.
All in all, if you want a great, versatile shelter that really is ultralight and you don't mind spending the extra money, I think you will be very happy with the Zpacks Duplex. Great design!
Source: bought it new
Price Paid: $600

One of the best tents I have ever owned, worth every penny. Ideal for three seasons ultralight backpacking.
Pros
Weight or lack thereof
Ultra-fast to set up
Extremely packable
Well ventilated
Freestanding (if desired)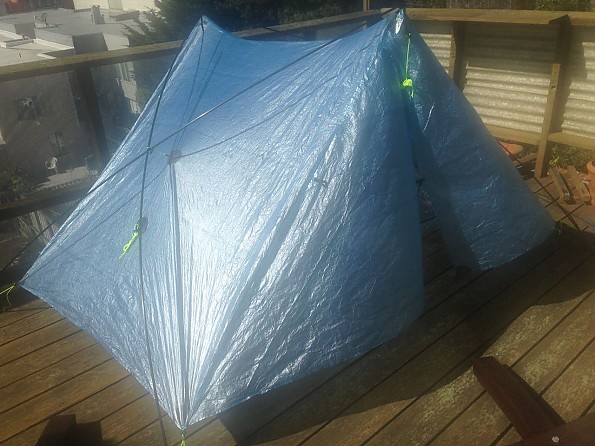 I used this tent for six backpacking trips in 2019. One in the rain, five dry, with temperatures ranging 20°-75°.
I purchased it with the Duplex Freestanding Flex Kit that adds 300 grams but makes it self-standing. It takes a blink of an eye to set it up, and it can stay up without any stakes. In the photo above it is set up on the deck of house, no stakes and very solidly up. In the outdoors I use four (two on the sides and two at the entrances). In calm weather the only stakes needed are at the entrances, to keep the vestibules/storm doors up, but again they are not needed in a pinch (and you save about 25 grams without them!!!!!!).
The tent is very stable in the wind, and took heavy rain without any problem. Four storm doors are great: you can always find one that is straight downwind and add ventilation if you need to. The single wall design is remarkable in that there is no condensation to worry about. Whatever forms seemingly either dries out due to the excellent ventilation or slides off to the outside of the tent. Brilliant design: my four-season tents when used without a rain-cover were always dripping wet at the end of a night.
Plenty room for two people and their gear. The tent sports the godsend of two doors, but even with that and including the free-standing kit it is well under two pounds. At that weight it represents a cavernous option for going solo. You can leave at home the Flex Kit and you are down to 500 grams + two poles (trekking or otherwise).
Packs VERY small. I do not even put it in a bag, but instead slide it into the outside mesh pocket of my Gossamer Mariposa.
The construction is first-rate. The tent is in ONE piece: single wall body and storm door and bathtub and fully enclosing insect screen are sown together in one piece. Durability has not been an issue. The tent after 10 months from purchase is like new.
Experience
Multiple tents over decades: Eureka, North Face, Mountain Hardwear the most recent.
Source: bought it new
Price Paid: $700 with Duplex Freestanding Flex Kit

The ultimate three-season, two-person backpacking shelter.
Pros
Lightweight
Waterproof
Very roomy
Livable
Easy to pitch
Strong
This is a ridiculously nice shelter. It's really easy to set up, uses 6 to 8 stakes for a taut pitch. It's very stable in wind and hard rain, the bathtub floor stands up to streams flowing under you (don't pitch it in a stream bed...).
There is great ventilation, room for two and a 60-lb dog easily. It is easy to pack up small. All in all it's just fantastic if you can get past the price. One month's rent for a tent is quite a bit, but I absolutely love it so far. 
Source: bought it new

Bought this halfway into AT thru, changed my life.
Pros
Lightweight (!!)
Easy setup
Durable
Well-ventilated
This product is a game-changer. I used a standard 1P lightweight tent for the first half of my 2016 AT thru, and because I was under budget I opted to acquire this tent for the second half.
I LOVED IT! The extra space for a tiny fraction of the weight, the comfort knowing I'd always be dry in it, the ease of using my trekking poles all added to really a luxurious experience. While the first half of the AT I tended to sleep in shelters because I didn't feel like setting up my tent, for the second half I always opted for this baby. It even fit in a tiny moose-sized holler in Maine where literally no other tent would go. 
It is stable (though I have heard complaints about it ripping open in hail, so be wary), waterproof, high-ventilation (it only had condensation on grassy fields).
It is roomy as hell, though cozy for two people.
It's packable and obviously extremely lightweight.
It held up over 70 nights of use, and I expect much more.
Source: bought it new
Price Paid: $599

Poor materials (adhesives) and no help from Zpacks.
Cons
Poor materials (adhesives) resulting in failure
Zpacks won't stand behind their product. After 25 nights over four seasons, the patches where the inner elastic cord that holds up the bathtub floor on the inside and where the center guyline attaches started slipping because the glue holding them to the cuben fiber roof got sticky.  
Pulling apart, they started pulling apart the cuben fibers.  Zpacks won't honor this as a material defect and says they cannot repair it. It is out of warranty but they won't touch it even though I am willing to pay for the labor.. So beware! This is an expensive investment that Zpacks doesn't stand behind.  
Aside from poor construction, it's small for two people. Works better for one, and the vestibules are small. I purchased it due to light weight and I assumed it would be good quality.
So disappointed!
Experience
I used it 25 nights over four summers. Most of those were trips where we maintained one camp for two nights. Condensation was about the same as in other single-wall tents.

I don't like the door design except I liked that there's no zipper noise getting up during the night. But I didn't like the closure—found it awkward. I camped mostly around timberline in Colorado and Wyoming. Endured lots of rain and stayed dry.

Sleeps cold due to the amount of ventilation needed to control condensation.

Aside from it failing from faulty patches tearing apart the roof fabric, it was an okay tent, but too expensive to have fail with no help from the company.
Source: bought it new
Price Paid: $650

This tent suffers from a severe design flaw: IT INVITES RAIN IN.
Cons
Too expensive
Bathtub floor is not anchored to the tarp
Has to be pitched perfectly
Not a wet weather tent
The biggest design flaw with the Zpacks Duplex tent is the unanchored bathtub floor. Specifically, the bathtub floor needs to be anchored to the tarp at all four corners. Without it being anchored, the floor is free to slide according to the incline of the site it is pitched on. Specifically, on a slight incline you will find that the floor very easily slides downhill independent of the tarp, allowing the insect netting to migrate out from under the protection of the tarp. 
Now throw in a late night rainstorm, the tent pitched on a slight incline, and exhausted hikers, and you have a recipe for a soaked interior. I know because THIS HAPPENED TO ME. I woke up with soaked feet in my sleeping bag.  
I exchanged several emails with Zpacks' owner about this design defect and his bottom line was I should have pitched it on a flat, level surface or chosen a tent more suited for a rainy environment. What???? And I paid how many hundreds of dollars for this tent???
So if your travels take you to dry climates over level ground then this is your tent.  
Final note on this tent: I placed the tent on ebay and it was stolen! Maybe this tent is just a case of bad Karma. 
Source: bought it new
Price Paid: full retail: $599 + shipping

Your Review
Where to Buy
Help support this site by making your next gear purchase through one of the links above. Click a link, buy what you need, and the seller will contribute a portion of the purchase price to support Trailspace's independent gear reviews.
You May Like
Specs
Price
MSRP: $649.00
Reviewers Paid: $599.00-$650.00

Weight
19.4 oz / 550 g

Peak height
48 in / 122 cm

Recently on Trailspace