Zpacks Hexamid Solo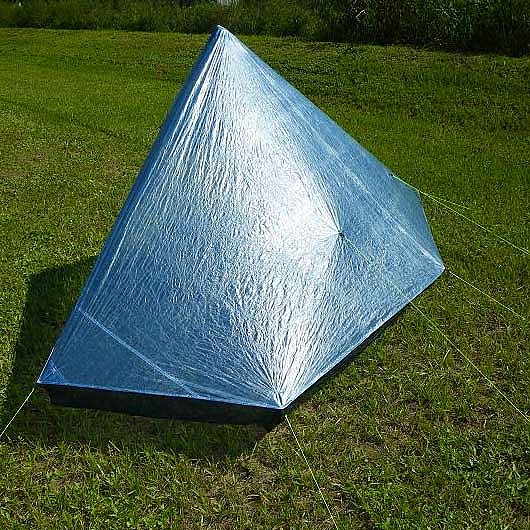 ZPacks Hexamid Solo Tarp
ZPacks HexaNet Solo Bug Shelter

It was not all that long ago when the thought of a fully enclosed bug net weighing two pounds was a mastery of feat and accomplishment! The rules have changed once again, being lead by some innovative and dedicated hikers, who also happen to be cottage manufactures, such as ZPacks.com
At an amazingly light 10.9 ounces (309 grams) the ZPacks Hexamid Solo tarp and accompanying HexaNet Solo bug shelter now provides us the ability to have a fully enclosed tent that requires only a single pole (or stick), can be setup in the one to two minute mark, and totally blow away over two pounds (32 ounces) [907 grams] worth of weight off even some of the lightest solo test setups on the market!
The ZPacks Hexamid Solo Tarp utilizes .51 oz/sqyd cuben fiber while the HexaNet Solo Bug Shelter utilizes .7 oz/sqyd mosquito netting and .74 oz/sqyd Cuben Fiber - with an optional 1.26 oz/sqyd Cuben Fiber floor if you expect to be in rocky terrain. If you are expecting to encounter a lot of snow and rain you can add an Extended Beak to the tarp for an additional 0.9 ounces (25 grams).
I have had the opportunity to use this setup in the snow, in rain, and on nice sunny days. The Hexamid Solo has become my favorite tarp of the dozens I have — so much so that I have started selling off all of my rectangular tarps as they just do not have the wind protection and coverage that I feel a hexamid tarp has.
By itself the Hexamid Solo tarp can be set up as high as your pole will go or right on the ground. I have found the need to use it both ways, but the vast majority of the time I keep it around 6 inches (15 cm) above the ground. Because of the coverage that it provides I have never had to worry about rain spray or dripping.
When the bugs come out it is a simple matter of pulling the pole out from under the tarp and sliding the HexaNet Solo Bug Shelter under the tarp. The handle of your single hiking pole goes into a slot designed into the top of the HexaNet Solo Bug Shelter, a very slick and very quick way to get your bug shelter setup. Likewise, if you do not need the tarp and want to just use the HexaNet Solo Bug Shelter by itself, all it takes is a single pole or stick; no stakes required, though there are loops on the corners if you want to stake it down. It should be noted that the HexaNet Solo Bug Shelter itself is rectangular and not hexamid in shape.


Material:
The Hexamid Solo Tarp uses .51 oz/sqyd cuben fiber in your choice of colors. The entire tarp is the same weight cuben fiber. There are five very small loop tie outs along the back way of the tarp, one at each front corner, and one tie out in the very front of the tarp. If you select the Extended Beak this adds one additional loop tie-out. When I bought my setup it included 30 feet (10 yards) of no-stretch spectra cord (I think it was 1.25 mm.)

The HexaNet Solo Bug Shelter has two options for the bathtub floor, a lighter weight .74 oz/sqyd Cuben Fiber and a heavier 1.26 oz/sqyd Cuben Fiber. Which you should buy depends upon your experience with cuben fiber and how meticulous you are about camp site selection and picking up rocks and other sharp objects from the ground before you setup. The mosquito netting is .7 oz/sqyd and is very tough.


Workmanship:
The overall workmanship on both of these items is top-notch. ZPacks utilizes a sewn process rather than a taped seaming and all of the lines are clean, especially consider all ZPacks gear is hand-made. There is zero wasted material along the edges and no unnecessary over flapping of material where it is not needed. It is clear that every square inch of these items are given consideration on how light they can be made and still retain enough endurance to make it last.
Often times when you receive a tarp you find the need to seam seal it. I put my Hexamid Solo Tarp outside 24/7 for 32 days of straight rain here in the Redwoods of Northern California, without having seam sealed it, and it held up tight. Every morning I would go out and run a finger along every seam looking for water seeping through and not a single drop. That is a testament to the workmanship of a tarp well made.
The HexaNet Solo Bug Shelter bathtub is exceptional. It has the second highest cuben fiber bathtub of any bathtub I have encountered. I never once had concern about having water come over the sides of the bathtub and get my gear wet. Very few things, perhaps nothing, is worse than going to sleep and waking up with water inside your tent. With the HexaNet Solo Bug Shelter that is simply not going to happen.

Field Performance:
I have had the opportunity to use this setup for a few months in temperatures from 90 Fahrenheit (32 Celsius) down to 18 Fahrenheit (7.7 Celsius) and I have never had any issues with the heat or the cold. I should note that I purchased my Hexamid Solo Tarp in white. Someday I would really be interested in seeing a detailed study and review of how different color cuben fiber effects the ambient temperatures underneath a tarp.
In the snow the setup performed flawlessly. Snow rolled right off the hexamid shape. When it did start to really pile up it handled the weight very well. In rain the Hexamid Solo Tarp performs better than any other tarp I have owned. On a beautiful day the tarp does wonders at getting the hot sun off of you. At 3.2 ounces it is light enough to carry for those who are SUL/XUL and adventure racers.
For those days when I knew I would not need a tarp I would take only the HexaNet Solo Bug Shelter to help me retain as much blood as possible. I have never had a single flying or crawling creature work its way into the shelter. That is what we expect from a bug net/shelter and it delivers success.


Design Principles:
Gone are the days of having to make sure you are dead-center underneath your tarp. The Hexamid Solo Tarp gives you 9 feet (2.75 meters) of length, 4.5 feet (1.37 meters) of width in the center and 30 inches (76 cm) of width at the ends. For the taller hikers out there, such as myself, the recommended pole height will give you only 28 inches (71 cm) of height at the entry.
Once inside you will have 45 inches (114 cm) of headroom to sit up in. I often times would fully extend my hiking pole (Gossamer Gear LT4) and extend the guy lines and that provided an incredible amount of headroom, amazing airflow and still have plenty of coverage from the elements. I could not do this when I needed to use the HexaNet Solo Bug Shelter as it is limited to a height of 45 inches (114 cm).
The HexaNet Solo Bug Shelter is a narrow shelter at 32 inches (81 cm). Once inside it is wide enough for a standard pad but starts to get really tight if you try to use a 25 inch (63 cm) sleeping pad. The overall length of the Bug Shelter is 7.5 feet (2.28 meters) which gives enough room for the longest of sleeping pads, hikers and their gear.
Within a matter of one or two trips out I had become a convert of the hexamid shape tarp. I will not argue the merits for/against a hexamid shape tarp over a rectangular tarp, others I am sure have already beaten that discuss to a pulp. Initially I was hesitant, now I am just in love.
The rectangular design of the HexaNet Solo Bug Shelter is in line with the vast majority of other bug inserts/shelters on the market. As I was laying in it one night watching the stars go by I began to wonder how much work it would take to create a hexamid shape bug insert that would follow the same design as the tarp. Thankfully I did not ponder on that thought for very long, as a mixture of the stars going overhead and the thought of all the additional weight in material caused me to fall asleep.

Performance to Weight Ratio:
I am no mathematician, nor am I somebody who enjoys setting up elaborate test to show pretty graphs and details. I find them educational when others perform such feats that are beyond me, I would much rather put the gear in my backpack and go hit the trail and find out how it works in the field, because for me that is really what matters.
There are a few key things I expect from my ultra light weight gear. I expect it to be as light as possible given the material I have chosen to select, I expect it to not break, rip, tear, or fall apart on me, and I expect it be something I can tell others "this is a piece of gear worth buying."
At a total weight of 10.9 ounces (309 grams) I find it incredibly hard how any dedicated solo hiker would not select the Hexamid Solo Tarp and HexaNet Solo Bug Shelter as their primary setup. These two pieces of gear do their job, and do it well, at a weight that is far lighter than nearly any other option on the market. Is that not the ultimate testament to consider when you are comparing performance to weight.

Minor Improvements:
As a gear reviewer I find this rather hard to say, but I do not have any minor improvement suggestions to offer. I have spent enough nights in this setup to have the time to lay there and think about what I might change, what I could cut off, how I might redesign some aspect of it, and each time I just feel asleep after not having thought of anything.
The material is one of the lightest materials that could be used. Sure ZPacks could make the Hexamid Solo Tarp with 0.33 cuben fiber, but that would only be useful for the 0.1% of the 0.1% of the most experienced users of cuben fiber tarps. Or perhaps we could say that we could saves a gram or two by cutting off the stake loops on the HexaNet Solo Bug Shelter, but none of these are improvements, they are simply modifications that only the most extreme of hikers would want, need, or consider.

Consumer Expectations:
I only have a single tent that weights over 30 ounces (1.87 pounds) [850 grams] so my expectations might be different than most. What I expect out of a tent is as much protection from the rain that I can have for as light as is possible. The Hexamid Solo Tarp and accompanying HexaNet Solo Bug Shelter have provided me the lightest fully enclosed system that I own. It is not the most bombproof shelter I own, however it is 15 ounces (425 grams) lighter, and for all but four season hiking this setup gives me exactly what I need.
I am confidant that this setup would be beyond acceptable for though who are more experienced in deep winter condensations than I am. Condensation has never been an issue for me with this setup, setup time has never been an issue for me, and weight has clearly never been an issue for me. My expectations have been meet. Thank you, ZPacks!
Disclaimer:
This product was purchased at full price by myself and it was not given to me for review. ZPacks authorized the use of their logo and associated images and photographs of their products for use in this review.
Price Paid: $410 total for Hexamid Solo and HexaNet

Your Review
Where to Buy
Help support this site by making your next gear purchase through one of the links above. Click a link, buy what you need, and the seller will contribute a portion of the purchase price to support Trailspace's independent gear reviews.
You May Like
Specs
Price
MSRP: $399.00
Reviewers Paid: $410.00

Recently on Trailspace