Zpacks Z-Line Dyneema Cord 1.2 mm
Rating:


Source: bought it new
Price Paid: 30 USD for 100 ft

Summary
Strong (over 200 lbs / 90 kg reported) and extremely brightly-colored 1.2-mm cord, perfect for making ultralight guylines and similar applications.
Pros
Extremely high visibility in all conditions
Very strong for such a thin cord
Completely tangle-proof due to notable stiffness
Reduces weight and packed size in shelters with long guylines
Cons
Not braided, the outer sheath may slip in some cases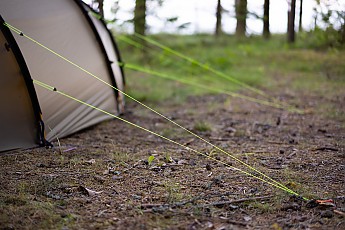 Immediately after purchasing my Hilleberg Kaitum 3 tent I saw that it contains around 25 meters of strong and overly thick 3-mm cord divided into 8 dual guylines. Normally I use the guylines on my tents very rarely, so after some time I decided to reduce the bulkiness and weight of my tent by replacing the guylines to more lightweight ones, preferably with better visibility at night.
Initially I tried the cheap green Chinese 2.5 mm guylines with reflective thread. But I didn't like their quality (the sheath had some fraying tendency), and what's worse, these guylines were next to invisible during the daytime due to their darkish green color! In the end I was less than impressed with resulting weight and bulkiness savings.
Small wonder that soon I decided to purchase the 1.2 mm Z-Line Dyneema Cord by Zpacks.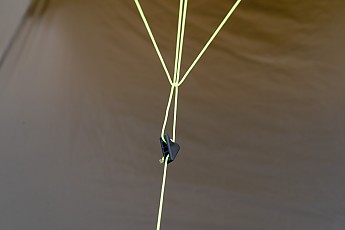 This cord is made of Dyneema fiber (ultra-high-molecular-weight polyethylene) core with polyester sheath. It comes in bright yellow and black colors, 50 ft (15.2 m) per piece. I wanted the brightest available cord, so I chose the yellow color, and also I opted for 1.2 mm thickness for reducing the bulkiness and weight as much as possible. The reported breaking strength of this cord exceeds 200 lbs (90 kg).
After more than a year of using this cord in my guylines (plus other similar applications) I'm really happy with my choice. The cord is extremely bright and visible, even on the photos it appears much thicker than it really is. In day and night, it's next to impossible to overlook this cord while passing by, so I really love its color! In the meantime, lack of reflective thread makes it less visible at night from large distance, which increases stealth.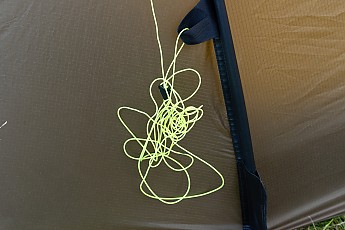 I've tangled it by myself, and it took a mere second to unwrap this 2-meter guyline
Despite the tiny diameter, this cord is stiff, so it has zero tendency to tangling. If I make a knot on it, I can easily untie it when necessary. The stated strength in more than enough for my needs, as I weigh 1.5 times less than the cord strength.
I use my guylines quite rarely, after a year there is no wear or fraying visible anywhere on the cord sheath. This cord is not interwoven like that in Hilleberg tents, so in some cases the core may slip relative to the sheath. Careful flaming to make a tight bond between core and sheath is advised after trimming this cord.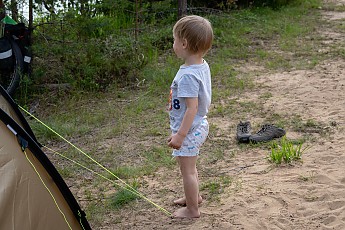 This cord works excellent with Clamcleat Mini Line-Lok CL266 line runners (aka 2 mm Hilleberg Guy Line Runners), you just need to make a larger dual knot when attaching the cord to a guyline. The grip is very strong and secure. Don't use generic Chinese line runners with this cord, as they're made for 2-3 mm thick line and may slip on this 1.2 mm cord.
In case of my tent, considering the total combined guyline length of around 25 meters, the volume savings in packed tent were about 0.5 liters. Of course replacing the Hilleberg guylines to this cord was my caprice, and most people will not even think about it. By the way, I use the pieces of this cord as zipper pullers in the tent, and the bright color comes very handy at night.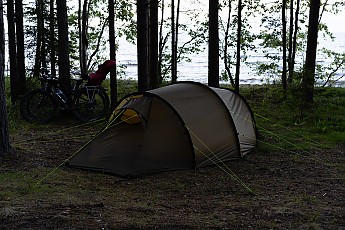 In low light conditions this cord is extremely visible
The bottom line: this is an excellent choice for those considering strong and super-visible ultralight cord for their tents, shelters, and other applications (such as tying the loops to stakes or zipper pullers) .
Where to Buy
sponsored links
Help support this site by making your next gear purchase through one of the links above. Click a link, buy what you need, and the seller will contribute a portion of the purchase price to support Trailspace's independent gear reviews.