300winmag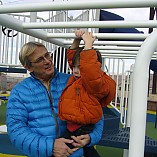 I am a:
79-year-old backpacker
Location
: Henderson, NV
Occupation:
Retired Teacher/Ski Patroller
Activities
Hiking
Backpacking
Snowshoeing

Backcountry skiing
Canoeing
Sea kayaking

Vitals
| | |
| --- | --- |
| Height | 5' 10" |
| Weight | 180 |
| Torso Length | forgot |
| Boot/Shoe Size | 11 1/2 D |
| Jacket/Shirt Size | Large (42- 44) |
| Pant Size | Medium (33W. 31 Inseam) |
I've backpacked since I was a Boy Scout in the '50s. In earlier days (70s thru the 90s) I was a canoe racer, instructor, and wilderness paddler. Then I got into sea kayaking where speed and big waves hooked me.
Now that I've retired from teaching I live in Las Vegas. I'm backpacking all over the mountain west. Also I've gotten back into backcountry skiing. For 10 years in Erie, Pennsylvania I was a Nordic petroller. Even got to patrol the '80 Olympics at Lake Placid and be an Army ROTC cadet winter survival instructor. Now I've joined the Las vegas Ski & Snowboard Resort Mountain Patrol as an alpine patroller. "It's a great life if ya don't weaken."
Gear Reviews (55)
Optimus Svea 123
1/15/2021
Naturehike Tofern Full-Zip White Goose Down Pants
11/23/2020
Deuter Aircontact Lite 60+10 SL
10/13/2020
Fire Maple Blade 2
7/15/2020
Tarptent Notch Li
6/27/2020
Eddie Bauer First Ascent Peak XV Parka
12/27/2019
Eddie Bauer First Ascent Downlight Hooded Jacket
12/21/2019
Helle GT
10/09/2019
Council Tool 2# Wood-Craft Pack Axe
10/02/2019
Eddie Bauer First Ascent Peak XV Down Jacket
5/01/2019
REI Flash Insulated Air Pad
10/14/2018
Merrell Moab Mid Waterproof
2/09/2018
Sole Thin Sport Moldable Footbed
5/31/2017
REI Quarter-Zip Fleece Pullover
5/25/2017
G3 Expedition Skins
3/14/2017
Sea to Summit Delta Insul-Mug
2/27/2017
Cascade Mountain Tech Carbon Fiber Quick Lock Trekking Poles Cork Grip
2/02/2017
L.L.Bean Down Sleeping Bag with DownTek, Mummy -20°
1/05/2017
Dachstein 4 Ply Boiled Wool Alpine Mittens
12/15/2016
Eddie Bauer Downlight StormDown Vest
11/27/2016
Duluth Fleece-Lined Dry on the Fly Cargo Pants
11/25/2016
MSR WhisperLite Universal
11/09/2016
Merrell Moab Mid Gore-Tex
9/22/2016
Platypus Platy Bottle
8/07/2015
Eddyline Sea Star
3/07/2015
Osprey Exos 58
1/28/2015
Open Country 3 Cup Hard Anodized Pot
1/26/2015
Eddie Bauer Kara Koram 0
12/21/2014
Tarptent Scarp 2
10/16/2014
Tarptent Moment DW
6/17/2014
Trail Designs Sidewinder Ti-Tri

(update)

6/15/2014
Hilleberg Akto
4/23/2014
Western Mountaineering MegaLite
3/27/2014
Trail Designs 12-10 Alcohol Stove
12/17/2012
Trail Designs Gram Cracker
7/07/2012
Trail Designs Sidewinder Ti-Tri
3/11/2012
SnowClaw Guide
10/31/2011
Lowe Alpine Attack MX 42+10
10/16/2011
MSR Lightning Ascent
10/05/2011
REI Kimtah Jacket
9/15/2011
Eddie Bauer First Ascent Downlight Sweater
11/17/2010
Princeton Tec Scout
8/31/2010
Brunton Flex Foldable Canister Stove
4/13/2010
REI Sololite
2/27/2010
Tarptent Moment
12/16/2009
Vargo Triad XE
6/16/2009
Jetboil 1.5L Cooking Pot
4/29/2009
Vargo Titanium Jet-ti Stove
4/29/2009
MSR DragonFly
4/29/2009
Cabela's Rainy River Parka with Gore-tex PacLite
10/30/2008
Mountain Hardwear Phantom 32°
10/05/2008
SteriPEN Adventurer
10/04/2008
REI Cruise UL 60
10/04/2008
Garmin Colorado 300
10/04/2008
Asnes Combi Combat
11/21/2007
Forums
300winmag has started 106 forum threads (including 1 trip report) and participated in 505 discussions. View all »