abela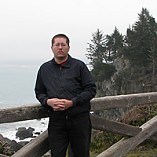 I am a:
47-year-old hiker
Location
: Eureka, CA
Website:
http://hikelighter.com/
Affiliations: In accordance of Federal Trade Commission 16 CFR, Part 255: I hereby declare that the disseminated content within my reviews of any product(s), unless otherwise noted, is free of endorsement(s) between myself and the manufacturer(s) of any product(s) disclosed herein and meets all FTC 16 CFR.255 compliance requirements.
Activities
Vitals
| | |
| --- | --- |
| Height | 6'1 |
| Weight | 200 |
| Torso Length | Large |
| Boot/Shoe Size | 11.5 |
| Jacket/Shirt Size | Large |
| Pant Size | 34 |
Hello,
I grew up in the outdoors and got away from it for about twenty years and finally got back into hiking a few years ago. I live in the beautiful Redwoods of Northern California where it often rains for 20-30 straight days, so this has given me a unique advantage to be able to really test a lot of gear for wet weather conditions.
I am a solo hiker and rarely enjoy hiking with groups, simply because I enjoy the ability to go at my own pace, stop when I want to stop, setup camp where I want to setup camp, and well, because it allows me more ability to listen to nature rather than listen to people talk all day long as they are hiking.
Over the last few years I have gone from a Base Pack Weight (BPW) of 24 pounds down to the 3 pounds range. I use three different setups depending on the trip and expected weather. The lightest (my XUL setup) is sub 2.5 pounds, than I have a mid-temperature setup that is in the 6 pound range, and than my heaviest for super cold and wet weather, is 8.7 pounds. It took me a number of years and a whole lot of money buying gear and testing gear and than buying and trying more gear in order to reach these levels.
But much more important than the gear you have is the experience you have outdoors and the experience you have with your gear. Hiking is about enjoying being outdoors and if you do not have the experience necessary to take on the trails you hike, and you do not have the experience with the gear in your pack, than you are just going to have a miserable trip - and that defeats every reason we go hiking. So, please, spend more time outdoors with your gear than you do messing around with a calculator and a spreadsheet.  Trust me, it sucks to be out on the trail walking the fine and narrow path of your experience with your gear and having a miserable trip because you thought you could push your gear and your experience to far to fast.
At the end of the day, the gear I have is there for two reasons: (1) to help me maintain a constant core temperature, and (2) to help me be able to get enough sleep that I can continue on in good health to be out there another day enjoying the beauty we have been given.
Managed Core Temp + Proper Sleep + Proper Food + Proper Gear = a successful trip!
Gear Reviews (6)