Adrian Turner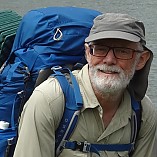 I am a:
74-year-old
Location
: Paekakariki, New Zealand
Occupation:
Retired from a local authority (council)
Affiliations: No affiliations
Activities
Hiking
Backpacking
Backcountry skiing

Mountaineering
Mountain biking

Vitals
| | |
| --- | --- |
| Height | about 5' 10'' |
| Weight | 70kg |
| Boot/Shoe Size | 8.5 UK |
| Jacket/Shirt Size | S/M |
I've been tramping (which is what we call hiking in NZ -- or should that be backpacking?) since I was about 14, and have spent time in the mountains though I'm not a technical climber.  I ski at an intermediate level, both downhill and ski-touring.  I sail in harbours.  I like multi-day mountain biking -- off-road touring rather than adrenalin seeking.  I taught at the primary school level for twenty years, specialising in Outdoor Ed, before switching to a customer service role in local councils.  I retired from that in October 2013, though I still do a few days here and there. I like spending time on home renovations, especially plumbing :-). You can tell I'm a generalist: dabble in lots of things, expert in none!
Reading recommendations:  Worst Journeys (a Picador compilation).  The Last Blue Mountain, by Ralph Barker.
Gear Reviews (2)
Forums
Adrian Turner has participated in 3 discussions. View all »