algentry1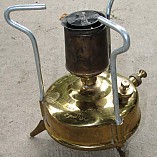 I am a:
73-year-old woods explorer
Location
: Central, OK
Occupation:
Retired Professional Land Surveyor
Activities
Hiking
Exploring
relaxing

walking off trail
primitive camping.

Vitals
| | |
| --- | --- |
| Height | 5'-10" |
| Weight | 170 +/- |
| Boot/Shoe Size | 10.5 (US) |
| Jacket/Shirt Size | 42-44 (US) |
| Pant Size | 34-30 (US) |
Hi, Folks
I grew up, literally, "out in" the eastern USA woods, spent the first 12 years without running water, and heated and cooked with kerosene. I started camping by myself, when I was 11 years old. As an adult, I spent my years as a Licensed Land Surveyor, thus I've been outdoors all my life. I collect vintage camp stoves, and have about 50 to 80 of them. Some are on my You Tube channel, algentry1. I'm an old man, and do what ever the heck I want to. Unless my wife won't let me. Or if she stares at me funny. ;o)
I've slept on the ground when I couldn't afford a tent, and I've been lost in the mountains, twice that I remember. I love the woods, and belong to and give (meager) support to, several "tree hugger" organizations. We live on 5 acres, and I belong to the land.

I have never been to heaven. But, I've been to Oklahoma.
Al
Gear Reviews (3)
Forums
algentry1 has participated in 6 discussions. View all »