Alicia MacLeay (Alicia)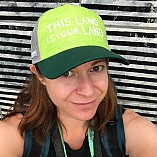 Full Name: Alicia MacLeay
43-year-old female trail runner, skier, hiker
Maine
Affiliations: In my role as editor, co-owner, and co-founder of Trailspace, I have professional relationships with numerous outdoor industry professionals, primarily representatives of outdoor gear brands. * Trailspace is a founding member of the Maine Outdoor Brands trade group, and I've served as a volunteer member of its Advisory Board.
| | |
| --- | --- |
| "I just like to be outside"—Jim, Reviewer of the Month | February 12, 2019 |
| Meet Teri: Section Hiker, Biker, Skier, Sunscreen Wearer, and Reviewer of the Month | January 14, 2019 |
| Congratulations, Zalman, Our MSR Winter Gear Winner | January 1, 2019 |
| Final Days: Review Your Gear Today to Win $450 MSR Prize | December 26, 2018 |
| Enter to Win $450 Worth of MSR Winter Outdoor Gear | December 18, 2018 |
About
I'm the co-founder and co-owner of Trailspace, along with my partner Dave, as well as its editor. Dave and I founded Trailspace in 2001 because we wanted an independent place where fellow backcountry enthusiasts could share reviews of their own outdoor gear, apparel, and footwear.
Thanks to our amazing community members, Trailspace now has more than 36,000 reviews and counting. Our members' first-hand reviews have helped millions of people find and select gear for their own outdoor adventures.
When I'm not inside working on Trailspace, I like to go outside to run, ski, hike, and bike on trails and in the woods and mountains of Maine, northern New England, and beyond. I like trees, snow, summits, rocks, and ice.
You also can find me on Instagram for #thingsiseewhenirun and #thingsiseewheniski
Activities
Hiking
Backpacking
Snowshoeing
Trail running
Backcountry skiing

Mountaineering
Canoeing
Kayaking
Mountain biking

Vitals
| | |
| --- | --- |
| Height | 5'4" |
| Weight | 130 lbs |
| Torso Length | 17" |
| Boot/Shoe Size | women's 7.5 US / EU 39 |
| Jacket/Shirt Size | women's medium |
| Pant Size | women's medium |