alpine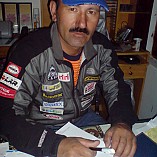 Full Name: private
46-year-old male mountaineer
Hunza, Sarhad, Pakistan
Gear Reviews
alpine hasn't written any gear reviews.
About
SUMMITTER OF 4* 8000M PEAKS OUT OF 5 IN PAKISTAN
SHEILD MEDALLIST
Qudrat Ali. born in 1969. In a very remote and segregate area called Shimshal valley which situated close to China border. In his early age he was very enthusiastic to know about the famous climbers and he used to talk to his friends about his dream to become a eminent mountaineer. Everyday of the livelihood starts with a dream to become professional climber and ends with the same . On one side he was collecting the expedition gear from the people of Shimshal as mostly people of the valley is indulge in the Profession of Mountain guiding and on the other side he was planning with his Friend Shaheen Baig ( Now K-2 Summitter) to make an expedition on Mangligh Sar 6000 which is near to Shimshal The morning came at the age of 20 when he puts first step to ward his dream by summitting the Mangligh Sar. The experience of this mountain on one hand shows him Technique, Skill , Courage and Will to achieve the target is the core to become a professional climber and on other hand gave him enormous happiness to feel that his dream can be accomplish. In1998 he Joined an expedition organized by French Focus to Gasherbrum 2 8035m despite his best effort bad luck prevail and he was not succeeded. In 1999 he got another chance to participated in an expedition arranged by Amical Alpine to Broad Peak 8047m led by Ralf owner of Amical and God helped him and he succeed in Summit ting, another mile stone in his carrier came. From that day the doors of the success opened. After this expedition Ralf become the fast friend of Qudrat and he was in every expedition planned by the Ralf till 2004.One by one Qudrat putting the 8000m Peaks Feather in his cap On 23rd July 2000 Gasherbrum II 8035m, 30th June 2001 Nanga Parbat 8125m, 25th July2003 Gasherbrum 2 8035m , 25th July2004 Gasherbrum 1 8068m. In 2002 Manslu (Nepal) 8163m from 7700 m he was force back to return due to unavoidable circumstances Qudrat always remember the Expedition on Nanga Parbat 2001 when what the skills and technique he has attained he applied on this Killer Mountain and in recognize of his services the Government of Pakistan has awarded a Shield to him again he was awarded Shield for his best performance in mountain climbing during 2004 ,2005 at a impressive ceremony at MOUNTAIN FESTIVAL 2005 at Islamabad Now a days he is running a private limited company SHAMS ALPINE MOUNTAINEERING & TREKKING (PVT) LTD registered with Government of Pakistan under the license No 897.
Activities
Mountaineering
Ice climbing

Rock climbing
Founder of shimshal mountaineering school

Vitals
| | |
| --- | --- |
| Height | 5.5 |
| Weight | 70kg |
| Boot/Shoe Size | 9.5 |
| Jacket/Shirt Size | small |
| Pant Size | 32-33 |