Andy Gotto @AndyG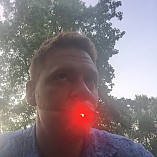 I am a:
47-year-old backpacker
Location
: St Louis, MO
Occupation:
Geographer
Affiliations: No affiliations
Activities
Vitals
| | |
| --- | --- |
| Height | 5'9 |
| Weight | 180 |
| Torso Length | 23" |
| Boot/Shoe Size | 10 |
| Jacket/Shirt Size | L |
| Pant Size | 33/30 |
I do a lot of research before I buy and have found this site immensely helpful.  I also find that writing reviews helps me organize my thoughts about my own gear.  Thanks all reviewers for taking time out to share!
I've camped and hiked my whole life, but a life change in early 2015 gave me the time I'd always wanted to really start backpacking.  Since then I take every opportunity I can to hike in as far as time allows.  
I hiked the 170 miles of the River to River Trail over twelve days in Spring of 2015 and I'm currently doing sections of the Ozark Trail in Missouri.  In between sections I try to hike and overnight whenever I can, I tallied up 425 miles last year on trails and loops all over Southern Missouri, Illinois and Arkansas.  I'm a co-organizer of a local backpacking group that is very active and I try to meet up with folks from the hammock forums whenever I can.  Occasionally work will send me around Illinois and I take the opportunity to car camp wherever it looks interesting. 
I run a little, kayak occasionally, but mainly purchase my gear for backpacking with myself, my daughter and my girlfriend in mind.  My pack weight is around 20 pounds for 3 season use, up to 30 for a multi day winter trip.  I'm at my most comfortable hiking around 15 miles a day.
Gear Reviews (42)
Forums
Andy Gotto has started 3 forum threads and participated in 24 discussions. View all »