aoaltunel "al"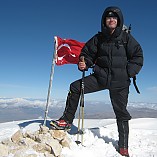 556 reviewer rep
0 forum posts
joined Jan 7, 2010


I am a:
52-year-old backpacker
Location
: Merkez, Kastamonu, Turkey
Occupation:
Forest Engineer with a PhD.
Activities
Hiking
Backpacking
Snowshoeing
Orienteering

Mountaineering
Rock climbing
Mountain biking

Vitals
| | |
| --- | --- |
| Height | 6' |
| Weight | 187 |
| Boot/Shoe Size | 10.5 |
| Jacket/Shirt Size | 44 |
| Pant Size | 32 |
I am a 48 year old, father of two sons; a 21 year old and another 9 year old, forest engineer with a PhD; in short, a hard-line forester from Kastamonu, Turkey. I am trying to make the best of everything together with my wife who is also at academics; raise our kids, earn a decent and honest way of living, convey what I have acquired over the years to new generations, be as little a burden to this world as possible. I lived in the US for almost five years during my post-graduate studies. Apart from my scientific work, being an outsider/nature lover is a never ending part of my life. That pretty much summarizes everything. God bless the good people of every country, religion, race, color, whatever.
Gear Reviews (65)