arcana1973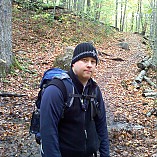 I am a:
47-year-old backpacker
Location
: Buffalo, NY
Occupation:
hospitality
Activities
Hiking
Backpacking

Kayaking
Mountain biking

Vitals
| | |
| --- | --- |
| Height | 5'9" |
| Weight | 210 |
| Torso Length | 19 |
| Boot/Shoe Size | 11 |
| Jacket/Shirt Size | L |
I'm from Buffalo, NY (GO SABRES!)   Trying to find people in and around my area who want to go on Wildreness Adventures.  I always seem to have time to run away when other people are not.  Love going on day hikes, and backpacking trips.  I've 2 kayaks so always available to go out for paddle.    Also have a mtn bike though, so I can do that as well.  (not real well, just able)
I originally started going hiking on my days off from being in the service industry. Dealing with people and their rudeness and complaints over food is disheartening.  I often joke that food service has made me lose my faith in humanity. So running into the woods seeking solitude was VERY appealing.  Eventually day hikes turned into weekend trips, and I am sure you all know how the rest goes.
Being in WNY offers many opportunities for outdoor pursuits. There are many creeks, rivers, 2 Great Lake's, Finger lakes within a short drive to paddle on.  The state parks in the area offer things for the hiker/biker/paddler.  For most trips I tend to run off to the Allegheny National Forest.  It's just familiar to me, so if I need to get away I know where to sleep, where I can get water and such.  So it makes trip planning easy.  I have backpacked a section of the Susquehannock Trail in North Central PA.
Within the past several years I finally made the move to hiking in the Adirondack High Peaks.  I have a camper so it has been easier for friends and family to come camp and sight see while I am running around in the woods.  I have also gone on a few backpacking trips into high peaks.
I am always looking for people to go on adventures with.  If you are in the area, or thinking about coming to the WNY hit me up and we can find things to do.
Gear Reviews (9)
Forums
arcana1973 has started 4 forum threads and participated in 27 discussions. View all »