Backpacker at 60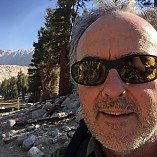 Full Name: Backpacker at 60
male backpacker
California
Occupation: Corporate Consultant
Email: private

Affiliations: No affiliations with any outdoor industry manufacturer.
About
Been backpacking and alpine skiing for 50 years, backcountry skiing for 30 years, and have gone through several generations of equipment and clothing. Its fun to check out new equipment and read what others have to say about equipment I may consider.
As a teenager I walked 800 miles on the AT (that was relatively heavy equipment in 1973) and every year I take long weekend backpacks and most years week-long backpacks in the Sierras, Rockies, Cascades or SW desert canyon country. My backcountry skiing is mostly day trips now (Sierras primarily). I also enjoy alpine and cross-country, prefer using my telemark gear either at a resort or in the backcountry.
Its amazing how equipment has become lighter, just in time for my aging body to stay on the mountain and canyon trails. Happy to write about some of my favorite pieces of equipment.  My comments come from my personal use, and I choose to highlight products that I rely on and what I like best.
Activities
Hiking
Backpacking

Backcountry skiing
Canoeing

Vitals
| | |
| --- | --- |
| Height | 5' 8" |
| Weight | 160 |
| Boot/Shoe Size | 10 |
| Jacket/Shirt Size | L mostly, rarely M |
| Pant Size | 30" inseam |