Barbara Egbert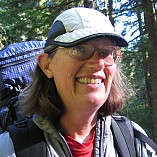 I am a:
71-year-old backpacker
Location
: Sunol, CA
Occupation:
freelance editor & writer
Website:
http://www.PCTfamily.com
Activities
My husband, Gary, and I were experienced backpackers when our daughter, Mary, was born in 1993. We started taking her along when she was 2 months old, learning by experience how to keep an infant safe and happy in the back country. Between frequent hikes in the East Bay and our good experiences on backpacking trips, Mary grew up as comfortable on the trail as she was at home. When she was 10, we tackled the Pacific Crest Trail, and Mary became the youngest person to complete the 2,650-mile trail in one season. Our experiences became the basis for my book, "Zero Days: The Real-Life Adventure of Captain Bligh, Nellie Bly, and 10-Year-Old Scrambler on the Pacific Crest Trail (Wilderness Press, Berkeley, 2008). We all enjoy encouraging families to enjoy the outdoors and explore the wilderness while expanding their abilities.
Articles (10)
| | |
| --- | --- |
| Profile: Rod Johnson of Midwest Mountaineering | May 17, 2010 |
| Gear Maker Profile: Randy Merrell of Merrell FootLab | February 15, 2010 |
| The Lure of a Long Trail: Planning a Thru-Hike (Part 4 of 4) | December 2, 2009 |
| The Lure of a Long Trail: Planning a Thru-Hike (Part 3 of 4) | November 10, 2009 |
| The Lure of a Long Trail: Planning a Thru-Hike (Part 2 of 4) | November 2, 2009 |
| The Lure of a Long Trail: Planning a Thru-Hike (Part 1 of 4) | October 25, 2009 |
| Backpacking with a Teen | July 14, 2009 |
| Backpacking with a Grade-Schooler | July 4, 2009 |
| Backpacking with a Toddler or Preschooler | June 24, 2009 |
| Backpacking with Baby | June 16, 2009 |
Forums
Barbara Egbert has participated in 11 discussions. View all »