beachboy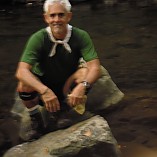 Full Name: private
68-year-old male backpacker
Kitty Hawk, NC
About
I am a beach boy born and reaised.  A few years back I came down with a good dose of Cancer.  Upon my recovery (I was blesssed) I wanted to do something I had never done before.  Thru an interesting set of events I became involved in backpacking.  I am  hooked--have completed all but, on the AT in NC; 75 miles on SC's Palmeto Trail; and several smaller trail events.  I still love my beach activities but the mountains have  secured their hook on me.  My goal is to try and knock out several of our trails in the Eastern part of the state and branch out from there.
Please feel free to contact me with any ideas you may have.
Good hiking and remember----Hike your own hike!
Activities
Backpacking
All Ocean Activities--Surfing
fishing

boating
free diving---

Vitals
| | |
| --- | --- |
| Height | 5'8" |
| Weight | 182 |
| Boot/Shoe Size | 101/2 |
| Jacket/Shirt Size | L |
| Pant Size | 34-30 |