Ben Doney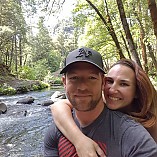 34 reviewer rep
0 forum posts
joined Jun 7, 2016


I am a:
backpacker
Occupation:
Software Developer
Activities
Hiking
Backpacking
Trail running
Canoeing

Kayaking
Mountain biking
Fishing

Vitals
| | |
| --- | --- |
| Height | 5'8" |
| Weight | 170 |
| Boot/Shoe Size | 10 |
| Jacket/Shirt Size | M |
| Pant Size | 30/30 |
I've had a passion for hiking from a very young age.  Honestly, I don't know if it was much of a choice, since I was brainwashed to love the outdoors and camping from birth.  And what's really terrible, is that I'm passing this on to my own kids as well!  All joking aside, I'm incredibly thankful to my parents for sharing their love of the outdoors.  
My first "big boy" backpacking trip was up Half Dome at 11 years old.  We hiked from Glacier Point to Illilouette Creek, then took the Panorama Trail to Little Yosemite Valley.  Then it was up Half Dome for the day and back to the valley.  The towering granite walls and soaring peaks were like nothing I'd ever seen, and I knew I'd be back.  My youngest ones are just getting big enough for an extended hike, so next year we'll be doing a similar trip.  
Other interests include, but are not limited to:  fishing, canoeing, sailing, guitar, web development, mountain biking, crossfit, homebrewing, drinking homebrew, building, flying and then crashing RC planes (repeat as necessary), woodworking, and running.  
I'm a huge fan of Yosemite, but really enjoy the more deserted parks.  Maybe I'm selfish, but there's just something about hiking all day, or for a few days, and not seeing another soul.  The Trinity Alps are probably my favorite place to backpack; there's so much to explore, and solitude is easy to find.  The Lost Coast is also amazing; waking up to the sound of the waves, and watching the sun set into the ocean (if you're lucky) is quite an experience.
Gear Reviews (1)