Ben Rivers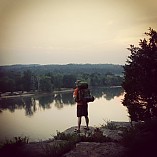 Full Name: Ben Rivers
male hiker
Tennessee
Email: private

About
I love being in the outdoors and experiencing God's creation. 
I like to hike, backpack, mtn. bike, camp and pretty much anything else outdoors.
When I camp I sleep in a hammock. 
To me, there is not much better than drinking a good hot cup of coffee on a cool morning, watching the world wake up. 
Check out Greens and Relief! These are two products that my wife sells that benefit me in the backcountry! Check out these and other products at www.magenwraps.com 
        Contact me with any questions you have about them!
Activities
Hiking
Backpacking

Canoeing
Mountain biking

Vitals
| | |
| --- | --- |
| Height | 5'9" |
| Weight | 175 |
| Torso Length | 17 |
| Boot/Shoe Size | 9.5 |
| Jacket/Shirt Size | L |
| Pant Size | 34X30 |