BigRed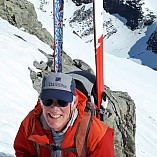 I am a:
67-year-old
Location
: Trondheim, Sør-Trøndelag, Norway
Occupation:
Associate Professor (plant physiology)
Activities
Hiking
Backpacking
Trail running
Backcountry skiing
Mountaineering

Canyoneering
Canoeing
Kayaking
Mountain biking
Full-contact Scrabble

Vitals
| | |
| --- | --- |
| Height | 6'4" (193 cm) |
| Weight | 175 lbs. 80 kilos |
| Boot/Shoe Size | 11.5 (46) |
| Jacket/Shirt Size | L/XL |
| Pant Size | M long |
American transplanted to Trondheim, Norway, after many years in New Hampshire and Vermont (and adventures in parts west, New Zealand, Australia, Nepal, more).
Backcountry skiing is what I like/do best, also hiking, sea kayaking, mountain biking where appropriate.
I'll never run out of mountains here in Norway. The weather can be iffy, the snow conditions "variable", but when the stars line up I've done some of the best tours and descents of my life here. An additional virtue: It's uncrowded (probably at least partly because of one of the drawbacks, travel in Norway is expensive). We have had huts here entirely to ourselves for up to three nights during Norway's reputedly busy Easter week...
Gear Reviews (104)
Forums
BigRed has started 127 forum threads (including 59 trip reports) and participated in 850 discussions. View all »