BioMan56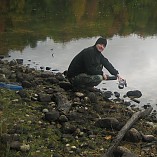 I am a:
40-year-old outdoor enthusiast
Location
: Green Bay, WI
Occupation:
Microbiologist
Activities
Hiking
Backpacking
Canoeing

Mountain biking
Camping

Vitals
| | |
| --- | --- |
| Height | 6'1" |
| Weight | 185 lbs |
| Boot/Shoe Size | 10.5 |
| Jacket/Shirt Size | large |
| Pant Size | 33-34 |
I have always really enjoyed camping, canoeing, and mountain biking, and more recently I have been getting into OHV 4x4 trails in my Jeep. I was drawn to this site while researching what I hope to be my new hobby, backpacking. I already have a lot of gear for camping but I am quickly realizing that I could use some lighter weight items. My outdoor aspirations beyond backpacking include getting into climbing and kayaking but those will have to wait till I can find some more free time and resources.
Gear Reviews (4)
Forums
BioMan56 has started 6 forum threads (including 1 trip report) and participated in 10 discussions. View all »