Brian Sells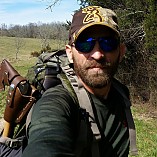 I am a:
50-year-old all around outdoorsman
Location
: United States
Occupation:
IT Director
Activities
Hiking
Backpacking
Orienteering
Canoeing
Kayaking

Fishing
Hunting
Primitive Skills
Camping

Vitals
| | |
| --- | --- |
| Height | 5'10" |
| Weight | 160 |
| Boot/Shoe Size | 10 |
| Jacket/Shirt Size | Large |
| Pant Size | 32/32 |
By day I am an IT Director for a hot sauce manufacturer. ALL of my free time is spent in the woods. I live in East Tennessee and the Great Smoky Mountains are where you can find me if I am not in my office. I constantly practice primitive wilderness skills as well as a lot of backpacking through the mountains. I enjoy anything that is done outside. I am always hunting, fishing or camping in my free time. I am a 2nd Lieutenant in the Civil Air Patrol working with cadets and teaching them outdoor survival skills. The outdoors is where I long to be all the time and when I retire, my intention is to travel the country experiencing as much of nature as I can fit in.
Gear Reviews (3)
Forums
Brian Sells has participated in 1 discussion. View all »