Cadenza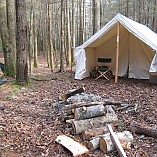 I am a:
backpacker
Location
: Tennessee
Occupation:
self employed
Activities
Hiking
Backpacking

Mountaineering
Fishing

Vitals
| | |
| --- | --- |
| Height | 5'9" |
| Weight | 175 |
| Torso Length | 18" |
| Boot/Shoe Size | 10 U.S. |
| Jacket/Shirt Size | Large |
| Pant Size | 33/30 |
I've been hunting, camping, and backpacking for 50 years. 

When I was young (and dumb) I tended to carry too much.  As I got older it got harder.  By the time I was around 40 years old I felt like a beast of burden.  It became apparent that I needed to lighten my load.  I spent the next decade chasing the "ultra light" holy grail.  Refinements in high tech gear fueled the process.  Eventually, I came to the conclusion that it's possible to go too far.  When you start leaving behind essential equipment for survival or even comfort it's time to move back toward moderation.
Most recently I have been drawn toward traditional classic technology.  More of a "bushcraft" style, using turn-of-the-century technology.
I really carry an eclectic blend of gear.  I may use a canvas pack, or a pig skin haversack, and yet I'll be carrying an Arc'teryx Gore-tex rain jacket.  I'll carry an antique axe and a Silky Big Boy folding saw with Japanese style teeth.  I may have both a titanium pot and a cast iron skillet.  Topo map and compass or a GPS.  Bic lighter or flint and steel.
It just depends on my mood at the time.
Gear Reviews (22)
Forums
Cadenza has participated in 30 discussions. View all »