CapitolaDan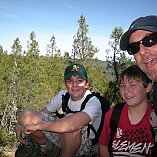 I am a:
backpacker
Location
: California
Activities
Hiking
Backpacking
Mountaineering

Rock climbing
Canoeing
Mountain biking

Vitals
| | |
| --- | --- |
| Height | 5'8" |
| Weight | 160 |
| Torso Length | Med |
| Boot/Shoe Size | 10 |
| Jacket/Shirt Size | L |
| Pant Size | 32 |
Started hiking and backpacking decades ago as a Boy Scout. Then I got into rock climbing and lead climbing in high school and was taking youth group kids when I was in college. I never was an accomplished/skilled climber, but I had fun nonetheless. I've done a fair amount of multipitch rock and no one has yet been hurt and or had to call for an evac -- so my luck is holding!
Family and a young one turned backpacking/climbing into weeklong car camping and mtn biking or hiking trips -- mostly in Santa Cruz Mtns (Calif.) and Lake Tahoe.
Now my son is entering his teen years and we're getting back into the climbing and backpacking end of things. Son wants to Summit Whitney this year (2011), so we're spending weekends doing some local hikes and planning to spend a weekend a month backpacking so the old man can get back in shape.
Gear Reviews (7)
Forums
CapitolaDan has started 6 forum threads (including 1 trip report) and participated in 20 discussions. View all »