Captain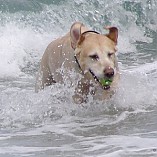 I am a:
backpacker
Location
: Boca Raton, FL
Occupation:
Having Fun
Activities
Hiking
Backpacking
Mountaineering
Geocacheing
Canoeing

Kayaking
Mountain biking
Anything Outdoors...Frisbee Golf
The Beach
Hippie Fests

Vitals
| | |
| --- | --- |
| Height | 5'7 |
| Weight | 145 |
| Boot/Shoe Size | 10 |
Unfortunately Florida is pretty flat and they keep f***ing it up by putting these damn strip malls, condos and high rises up. They keep clearing what is supposed to be protected/preserved land putting these monster shopping areas or condo communities there. No matter how much we protest the idea! Sad thing is that there are so many unused/unoccupied buildings that can easily be demolished & then they can rebuild whatever the hell they want.
Yes im a bit annoyed in Florida right now...anyone have a better place for me! I just feel nailed down b/c i have been here whole life, fam is here, I own house i cant sell (to break even) and i sure would miss the goodpeople (wsp) i ahve met along the way!
Gear Reviews (10)