Charles Brodeur II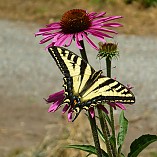 397 reviewer rep
5 forum posts
joined Jul 25, 2018


I am a:
70-year-old another yourself
Location
: Rio Dell, CA
Occupation:
Retired from Home Remodeling
Affiliations: I am an unpaid Research and Development of Design expert for all of the major brands of outdoor gear by happenstance of buying their products. LOL!
Activities
Hiking
Backpacking
Mountain biking
Fishing
Bicycle touring

photography
archery
martial arts
lovin' life

Vitals
| | |
| --- | --- |
| Height | 5'/8" |
| Weight | 135 |
| Torso Length | 16 |
| Boot/Shoe Size | 9EE |
| Jacket/Shirt Size | small |
| Pant Size | 30 waist/30 length |
As a 66 year old man that began backpacking when I was 16 I've owned and used hella lot o' gear and I've seen the great design and manufacturing improvements. From the first marketing of the goose down sleeping bag to stepping away from framed packs to internal frame and no frame ultralight packs. My first encounter with the backpack was at age 8. It was my old man's WW2 surplus wood frame with rotting cotton canvas bag, back webbing and web shoulder straps. I used it to pretend I was an explorer about the world all over my yard and the grape vineyard right across the street, but man did it hurt. Still, I was hooked for life. Jump to my mid-teens when I bought a Camp Trails and then a Kelty that were both an aluminum frame with a nylon bag that was marginally better, but not by much. Many packs later I have a comfortable "old lady" in the shape of the ILBE U.S. Marine issued pack that was designed by Arc'teryx of Canada after the Bora. For cooking from Sterno to MSR Dragonfly. For sleep from a 7 lb. Kapok filled bag and Ensolite foam pad that was cold at 50 degrees to a 1.75 lb. Sierra Designs Nitro 800/20 and Big Agnes Air Core Ultra insulated air pad at 1 lb./4 ozs. From a waxed canvas pup tent without a floor to the two shelter systems  I have now; 1. Mountain Hardwear Drifter 2 tent at 5 lbs./9 ozs. 2. XL 78" wide hammock, separate over-sized bug net, and Hennessy Hex Rain Fly totaling 4 lbs./4 ozs. This is my newest shelter system and I think it will end up my favorite due to it's versatility, size and choices of configuration. I could sleep bug free in fair weather with nothing more than the net strung loose between two trekking poles and  large emergency blanket for a ground moisture barrier weighing in at 11.6 ozs. That's not even 3/4 of a pound. So much for the drivel on gear. In younger days when was living in the San Joaquin Valley of California I found myself in the Sierra Nevada Mountains. Yosemite and Mineral King were favorites of mine. I've hiked and camped from the Pacific Ocean beaches of California, Oregon and Washington to the Arizona deserts to the Rocky Mountains ridge lines and West slopes to the John Day Wilderness to Vancouver Island's East coast and a lot of places in between. I love to rough it and have in some NF and BLM spots for weeks to months at a time; sometimes with a mate, but women that sturdy are few and far between. Most often I've flown solo and in search of the most pristine remote spots or hot springs and mountain bike meccas. I liked it that way until now. Now, I have a grandson that will be 8 come November and he and I are like hand in glove. So, to share the love I outfitted him the the real thing; Osprey Ace 38L pack, 2lb. down bag and foam pad, TNF hiking boots and merino wool socks, Komperdell kid's trekking poles, TNF rain jacket, Sawyer Mini water filter, whistle, poncho, and LED flashlight. We live together with his dad my son among the Giant Redwoods on the Northern California coastline and that's where we'll start this sprout's experience of backpacking and outdoor life. Just remember what the heroin dealer said, "The first one's free". He'll be hooked in a heartbeat and one more soul will be freed of "The Machine". I already have him hooked on bicycling and now for the frosting on the cake. 
Gear Reviews (38)
Cold Steel Master Hunter in San Mai
9/11/2018
Morakniv Companion
9/11/2018
BearVault BV500
9/10/2018
Mountain Hardwear Exposure Parka
9/09/2018
Mountain Hardwear Docklands Reversible Beanie
9/09/2018
Komperdell Peak Hunter
9/09/2018
Hyke & Byke Eolus 15°F Ultralight 800 Fill Power
9/09/2018
Sierra Designs Ministry 40
9/07/2018
Jandd Large Mountain Pannier
8/22/2018
Merkapa XL Double Parachute Nylon Hammock
8/18/2018
Jandd Mountain Expedition Pannier
8/18/2018
The North Face Jr Hedgehog Hiker Mid Waterproof
8/18/2018
Chaco Z/Volv 2
8/18/2018
Nikwax Tent & Gear SolarProof
8/18/2018
Nikwax Down Wash
8/18/2018
Gear Aid ReviveX Pro Cleaner
8/18/2018
Gear Aid Tenacious Tape Fabric Repair Tape
8/18/2018
Deuter Fox 30
8/18/2018
Big Agnes Fly Creek UL1
8/18/2018
Big Agnes Insulated Air Core Ultra
8/18/2018
Ozark Trail Backpacking Tent with Vestibule, Sleeps 1
8/18/2018
Arc'teryx Bora 65
8/15/2018
Leatherman Super Tool 300
8/09/2018
MSR DragonFly
8/08/2018
Granite Gear Nimbus Trace Access 85

(update)

7/29/2018
Chinese Canister Stove Knockoff
7/27/2018
Hennessy Hammock Asym Hex
7/26/2018
Komperdell Highlander Cork Anti-Shock
7/26/2018
Osprey Ace 38
7/26/2018
Outdoor Research Helios Sun Hat
7/25/2018
Mountain Hardwear Butterman Hoody
7/25/2018
Mountain Hardwear StretchDown Plus Hooded Jacket
7/25/2018
Sierra Designs Mobile Mummy 600 3-Season
7/25/2018
U.S. Military ILBE Pack
7/25/2018
Sierra Designs Nitro 800 / 20 Degree
7/25/2018
Sierra Designs Backcountry Bed 700 / 35 Degree
7/25/2018
Sierra Designs Zissou Plus 700 2-Season
7/25/2018
Granite Gear Nimbus Trace Access 85
7/25/2018
Forums
Charles Brodeur II has participated in 3 discussions. View all »