Chelsea Biondolillo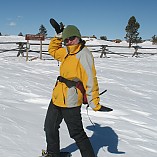 Full Name: Chelsea Biondolillo
female hiker
Oregon
Occupation: Writer/teacher
Email: private

About
I am an outdoors-lover currently living in Oregon.
I've also lived in Arizona, Wyoming, New Mexico, Texas, (Central) New York, Maryland, and Louisiana. 
I've backpacked in Chile, scuba dived in Brooklyn, and hiked all over, including the Canary Islands, Alaska, New Zealand, and Bombay. I've gone caving, rafting, and once, snowboarding. 
My favorite outdoor activities (besides hiking) include snowshoeing, camping, and kayaking. I'm a slow-as-molasses runner, but I like to do that on trails, too.
Activities
Hiking
Backpacking
Snowshoeing

Trail running
Kayaking

Vitals
| | |
| --- | --- |
| Height | 5'4" |
| Weight | 165 |
| Pant Size | 12-14 |