Chris Myers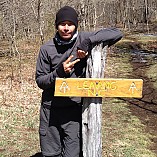 1,069 reviewer rep
19 forum posts
joined Mar 31, 2015


I am a:
38-year-old backpacker
Location
: Kentucky
Occupation:
Mechanic
Activities
Hiking
Backpacking
Trail running
Rock climbing

Canoeing
Kayaking
Fishing

Vitals
| | |
| --- | --- |
| Height | 5'11'' |
| Weight | 155 |
| Boot/Shoe Size | 11-12 |
| Jacket/Shirt Size | M-L |
| Pant Size | 32 |
I like testing and talking about gear with friends and now I am starting to get into doing reviews online. My goal is to provide solid reviews with helpful information and include things I feel are helpful to other consumers.
I have been more and more concerned lately with trying to save weight where I can. Not going to extremes but doing my best to cut the numbers without sacrificing my comfort, which I hold in high regard.
I do not like to be cold or wet. I especially do not like to be cold and wet at the same time! It has happened to me on several occasions. I do get cold easily and will carry a 4 pound sleeping bag, with a 2 pound sleeping pad, if it means I stay warm and cozy! That doesn't mean that I want to carry that much weight, but I will!
After years of using cheap, inexpensive gear, I have come to my own conclusion. You get what you pay for. I have heard that time and time again over the years and I believe it. Of course, like with any rule, their are always exceptions! And when trying to find light, good quality gear, it gets expensive.
I would like to get more into making my own gear. My fiancé knows her way around a sewing machine and she has already begun to help me with a few small projects. She really gives me a lot of support and freedom to spend time outdoors and with my friends. She loves the cabins and the hotels...that's about it...I love her!
I could go on all day about gear and girls but I am losing focus! The point is, I hope to share some useful knowledge I have gained about my gear while enjoying my love for the outdoors!
I hope you all enjoy!
Gear Reviews (10)
Forums
Chris Myers has started 1 forum thread and participated in 11 discussions. View all »