Chris Utz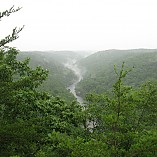 I am a:
45-year-old backpacker
Location
: Mckee, KY
Occupation:
Child Care Worker
Activities
Hiking
Backpacking
Canoeing

Mountain biking
Fishing

Growing up in eastern Kentucky meant "playin in the woods". i didn't realize that not everyone had the same experience until i joined the military. throughout my life i have never strayed to far from a treeline, ready to make a break for it whenever the chance appears. now i hope to impart my love of nature to my son, as well as the children i work with.
"If ya ain't got socks, ya ain't got much. But if ya got'em ya might as well pull'em up."
Gear Reviews (5)
Forums
Chris Utz has started 7 forum threads and participated in 27 discussions. View all »