Cody Bartz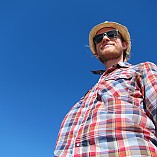 430 reviewer rep
3 forum posts
joined Nov 30, 2012


I am a:
33-year-old backpacker
Location
: La Crosse, WI
Occupation:
Print Production / Artist / Graphic Designer
Website:
http://codybartz.com
Email:
codyjbartz@gmail.com
Affiliations: I do not have any professional relationships. I do work part time at a bike and fitness shop, where I can order some items at cost. I do some bike maintenance as well as sales.
Activities
Hiking
Backpacking
Snowshoeing

Trail running
Biking

Vitals
| | |
| --- | --- |
| Height | 6'2" |
| Weight | 175 |
| Boot/Shoe Size | 12 |
| Jacket/Shirt Size | medium/small |
| Pant Size | 31" x 34" |
I was born in Bemidji, Minnesota, which is in the north central part of the state. I grew up on a farm in the small town of McIntosh, Minnesota. I returned to Bemidji for college to study art and graphic design. That is the time and place that my love for outdoor activities really began. I got a taste of canoeing, kayaking, mountain biking, rock climbing, hiking, backpacking, and running.
The things I enjoy most are biking and hiking. I commute to work regularly and run many errands by bike. I also enjoy hiking as it is the most basic of human powered activites - put on your shoes and go! In the past two to three years I have been more and more interested in making hiking and biking trips longer. I like to bike camp and backpack and spend the night outdoors.
My experience is not extensive, but I am trying to get outdoors more regularly. I have done around a dozen overnighters by bicycle, bringing along items to camp. My longest bicycle trip was 400 miles over roughly 6 days on the Mesabi Trail in northern Minnesota.  
My most recent longer trip was in June 2013 - I backpacked and did a through hike of the 300 mile Superior Hiking Trail in northeastern Minnesota. I did it in a relatively light and fast way by completing the trail in just over 12 days, covering 24 miles a day.
I have also spent a week in Moab, Utah, mostly hiking and mountain biking with a touch of rock climbing thrown in. I spent a few days in the Porcupine Mountain Wilderness in Michigan. Otherwise most of my time has been in Minnesota. 
I recently moved to La Crosse, Wisconsin and have been enjoying the driftless region. I am looking forward to more multi-day bike trips and backpacking trips. 
Gear Reviews (7)
Forums
Cody Bartz has participated in 3 discussions. View all »