Colleen Welch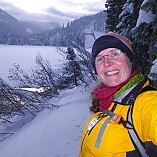 I am a:
58-year-old cycle tourist
Location
: Olympia, WA
Occupation:
Part-time Bike Tourist
Website:
http://www.superbikerwoman.blogspot.com
Activities
Mountain biking
Gravel riding

Vitals
| | |
| --- | --- |
| Height | 5' 7" |
| Weight | 150 lbs. |
| Boot/Shoe Size | 9 1/2 or 10 |
| Jacket/Shirt Size | Large |
| Pant Size | Medium |
I am an avid cycle tourist. I prefer self-contained bike tours that I have planned myself or with a friend. I've toured solo as often as with a friend. I prefer camping and cooking my own meals to hotels and restaurants. I may like to travel on the cheap, but I'm all about using quality gear. I am fiercely loyal to gear that does the job.
My favorite places are the Oregon Coast, the San Juan and Canadian Gulf Islands, and New Zealand. I did a five week bike tour of both of New Zealand's islands. Next up is a 2 1/2 month bike tour of Europe in Spring and Summer of 2014. Half of the tour will be with a friend, the other half will be solo. After that, I'm planning on cycling the Great Divide Mountain Bike Route from Banff, Alberta to Antelope Wells, New Mexico.
Gear Reviews (3)