CY6TacticalSolutions.com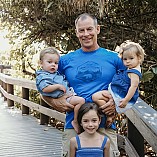 I am a:
hiker
Location
: United States
Occupation:
Private contractor
Affiliations: I dabble as a gear tester and often found playing outdoors. Tactical operator/instructor. As a member of TheDyrt's Ranger gear review program, I occasionally receive discounted or free products to test in exchange for honest and practical reviews. As a "Pro Deal" member,I am constantly trying new gear from various manufacturers to find trustworthy items that make my outdoor pursuits easier and more enjoyable. As a 'senior' outdoor enthusiast, I have been fortunate to have not only my personal perception of gear, but also that of my children and their children which has provided well-rounded observations.
Activities
Hiking
Backpacking
Canoeing
Kayaking

Mountain biking
Fishing
Bicycling

Vitals
| | |
| --- | --- |
| Height | 6'0" |
| Weight | 180 |
| Torso Length | 21" |
| Boot/Shoe Size | 10 |
| Jacket/Shirt Size | L |
| Pant Size | 32x32 |
Varied outdoor interests. Passionate about hiking/backpacking, paddling canoes and kayaks (flat water fishing and tripping/fresh or salt), bicycling (road, mtb, CX, bikepacking).
Favorite haunts: For spectacular long views and epic hikes -Colorado. For fun, Appalachians, Eastern Sierras, Rockies, Smokies, Shenandoah, and everywhere in Michigan, PA, Ohio and WV. For quiet solitude behind a paddle the mangrove estuaries and swamps of SWFL and Algonquin Provincial Park, Canada lakes. Enjoy cycling anywhere I'm not freezing. 
I try to do these in equal parts throughout the year.
Gear Reviews (42)
Forums
CY6TacticalSolutions.com has participated in 5 discussions. View all »