Dan Soderlund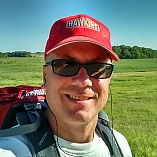 I am a:
57-year-old backpacker
Location
: Northfield, MN
Occupation:
Pharmaceutical sales
Activities
Backpacking
Ham radio
fishing

hunting
golf

Vitals
| | |
| --- | --- |
| Height | 5' 11" |
| Weight | 195 |
| Boot/Shoe Size | 10.5 |
| Jacket/Shirt Size | XL |
| Pant Size | 36 x 32 |
I am trying to hit all the backpacking trails in the upper Midwest, but intend to start branching out to other areas of the country. I have a number of trails on my bucket list including, Superior Hiking Trail (MN), North Country Trail (MN, WI, MI), Foothills Trail (SC), Ozark Highlands Trail (AR), Lonestar Trail (TX), Appalachian (NC section), John Muir (CA). I hope to be walking off the line at work in the next couple of years and plan to hit several trails per year once that happens. My trail name is "Disco".
I am happy to announce that my wife has agreed to start hiking with me. Her trail name is "Cookie Doe".
Gear Reviews (1)
Forum Posts