Dave Rich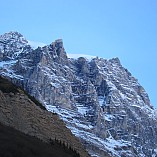 Full Name: Dave Rich
47-year-old male backpacker
Golden , B.C.
Occupation: Heavy Equipment Operator
Email: private

About
I Love the Mountains and everything they have to to offer . i dont get out as much as i want too anymore . but im going to change that . i have many trips planned and i love Trailspace reviews .
Activities
Hiking
Backpacking
Mountaineering
Mountain biking

Fishing
Hunting
QuadRider .