David Stutzman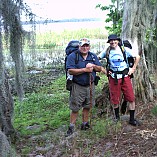 I am a:
77-year-old backpacker
Location
: Virginia
Occupation:
Retired Army
Affiliations: no, but I did write a book on ultralight backpacking
Activities
I started hiking when I was about eight with my father.  That was also when I met my first bear.  We were in central PA and stopped for the night in a beautiful area with tall pines and near a creek.  I threw some wash water over a big log in the evening and right on top of a bear who was quietly grubbing underneath the log.  He stood up looked at me and said "Unhhh?"  I looked at the bear and said "Unhhh?" We stared at each other for a long time, perhaps a second and a half, then he departed quickly up the hill and I departed quickly the other way!  Despite this experience, I still continued backpacking!  I love the Blue Ridge mountains and have worn out many boots on the AT.  I have also hiked in southern Germany (Garmisch-Partenkirchen), in the Tyrol, Austria, south of Innsbruck, around the Stubai Alps and in Japan up Mt Fuji.  My hiking also included many trails in various states where I was stationed in the US.  My last hike was around Cloudcroft, NM at about 9,000 ft.  Very dry with few water sources.  I will be starting a section hike on the Mountains to Sea Trail in NC this month, June 2013.  I have continually cut my carrying weight and even wrote a book "Ultralight Backpacking in Nature's World".
Gear Reviews (2)