davidtierney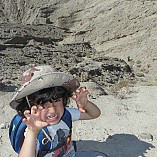 I am a:
53-year-old backpacker
Location
: Los Angeles, CA
Occupation:
Student
Website:
http://www.davidtierney.com
Activities
Hiking
Backpacking
Trail running
Orienteering

Adventure racing
Fishing
Surfing

Vitals
| | |
| --- | --- |
| Height | 5' 8" |
| Weight | 165 |
| Torso Length | 19" |
| Boot/Shoe Size | 9.5 |
| Jacket/Shirt Size | 38 |
| Pant Size | 32w 30l |
My father was an avid car camper.  He took me to every uncrowded (aka, unpopular) campground from Los Angeles to Belle Fourche, whether I wanted to or not.  By high school, I was definitely feeling "or not."  Shortly after, I joined the Marine Corps and spent five years sleeping outdoors, usually in a moldy canvas tent with thirty other Marines, and for long periods of time (during the Gulf War I slept in a moldy canvas tent for seven months or so).  I also started hiking.  What I mean to say is, humping the 50 pounds (plus) of pack and gear for fifteen (plus) miles as fast as we possibly could.  By my EAS, I hated camping and hiking.
Time passes, however.  Nostalgia has made me the hard-as-nails Marine I want others to think I was (My 4063 MOS might make me hard at ComicCon, but not with other Marines).  My tents are no longer moldy canvas, my packs are not named A.L.I.C.E., and now I can bring both people I choose and my favorite booze (Yay, Booze) into the back country.  It is a fundamentally different experience  -- one for which I have become the most annoying of proselytizers.  I also have secret dreams of someday leading my son to be the youngest thru-hiker on the PCT (but I won't be like my father, right?).
I'm fit (I run an 8-minute mile), but not very (can't run more than five at that pace).  I do not enjoy shredding down a steep single-track  -- to be honest, I really don't know what a "single-track" is.  Kayaks and canoes are cool, but expensive.  I am not a mountaineer or a rock climber, nor do I expect to be.  I am certainly not averse to risks, but I don't like inventing them for my bourgeois entertainment...though I will try anything just to say that I had.  Or, if you dare me.
My favorite trips are the ones that, by virtue of some arduous or unpleasant interim, lead to a beautiful spot whose views can only be taken in by those whose whining has not prevented them from enduring a thing or two. 
If you have a sense of humor, if your whining has not been so recalcitrant that I have been forced to smear you with the edible contents of your pack and strand you in some mosquito-infested, Grizzly-patrolled stink-swamp wearing nothing but gorse, cholla, and fiberglass skivvies so that you may contemplate actual discomfort, if you can -- in this setting -- appreciate the universality of the basic wants of people from every walk of life and corner of the globe and contemplate our shared relative insignificance, then I probably wouldn't mind sharing a dram with you.
Gear Reviews (7)
Forums
davidtierney has started 8 forum threads and participated in 16 discussions. View all »