dirtwheels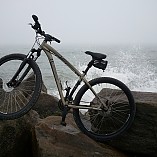 I am a:
mountain biker
Location
: Fort Mill, SC
Occupation:
Electronic Systems Integrator
Affiliations: No industry affilations
Activities
Hiking
Backpacking

Mountain biking
Fishing

Vitals
| | |
| --- | --- |
| Height | 6' |
| Weight | 190 |
| Boot/Shoe Size | 11 |
| Jacket/Shirt Size | 44/Large |
| Pant Size | 34x32 |
I grew up in VA usually hunting, fishing or involved in sports of all kinds, I especially enjoyed free climbing and wondering thru the thousands of acres of woods that surrounded our home. There were 14 ponds, a river and all the deer, turkey, fish, small game you could want and even a bear on rare occasions.
I spent more time racing and exploring on the infamous 3 wheeler as I grew older and have now migrated to mountain biking and hiking when I'm not playing golf. I have paired my passion for the back country with the comfort of the hammock and am planning on a few section hikes on the AT this spring. I also hope to combine my mountain biking hobby with hammock camping to do a little bikepacking this spring as well.
Gear Reviews (21)
Forums
dirtwheels has started 10 forum threads (including 3 trip reports) and participated in 70 discussions. View all »