dystopia86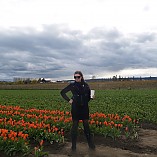 I am a:
39-year-old backpacker
Location
: Boulder, CO
Occupation:
Exhibit Designer
Activities
Hiking
Backpacking

Mountaineering

Vitals
| | |
| --- | --- |
| Height | 5'8" |
| Weight | I don't think so |
| Boot/Shoe Size | 9 |
| Jacket/Shirt Size | M |
I work at the American Mountaineering Museum and get paid to read and study up on Mountains all day! It's the coolest job ever.
Here is my mini rant: You can't miss me, I'm the one in the backcountry in a practicle altered cocktail dress. People don't realize that the majority women's fashion is sewn out of the same fabrics that the ugly $100 shirt at REI is made out of. Comfort, function and fashion for WAY less money just sounds smart to me! But I guess if people want to look like Hobo/Jock highbreds thats up to them. Boring!
I'm currently doing three day hikes a week prepairing myself for the Colorado Trail this time next year. I figure if I can get really comfortable doing 10 miles a day with a pack, then I can do the whole thing is about 8 weeks.
I also love busting out the scale and seeing where I can shave off yet another few oz. from my pack!
Gear Reviews (4)
Forum Posts