Eddie Horvath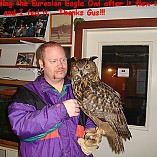 I am a:
47-year-old backpacker
Location
: Price, UT
Occupation:
Master Body Piercer
Website:
http://www.diversityinutah.com
Activities
Hiking
Backpacking

Hiking for raptor research

Vitals
| | |
| --- | --- |
| Height | 5 feet 7 inches |
| Weight | 200 lbs. |
| Boot/Shoe Size | 7.5 |
| Jacket/Shirt Size | Large |
| Pant Size | 32 X 30 |
I'm Eddie. I'm 37 years old and come from an avid hunting, fishing and camping family. I no longer hunt with guns, instead I became a falconer and hunt with raptors like hawks, eagles, owls and falcons which I've done for nearly 26 years. I also volunteer much of my time doing raptor research on our nesting raptors with particular attention paid to the North American Goshawk due to the detrimental effects of West Nile Virus; but, all nesting raptors are included in the research.
By trade I am a Master Body Piercer and I was also an EMT and a Paramedical Examiner. I have also hand raised several species of parrots for about 27 years.
As for camping I prefer the mountains over the desert but I do go to our Southern deserts to research nesting falcons. I prefer to camp in areas where there are a lot of trees and a lake or river. The desert is just too uncomfortable for me for several reasons. I am kind of pasty; have blue eyes and red hair.....needless to say I burn extremely easily, usually within 10-15 minutes and I despise sand blowing in my eyes and mouth. Wilderness camping is the best for me, LOL.
We used to go camping in a trailer but over the years, since my family no longer goes, I rely on my tent and Dutch Ovens! Backpacking into a place that is not as crowded as regular camp grounds is awesome for the privacy and the exceptional wildlife which can be seen!
Gear Reviews (8)
Forums
Eddie Horvath has started 7 forum threads and participated in 12 discussions. View all »