eric elliott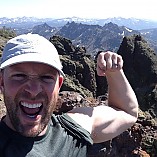 Full Name: eric elliott
37-year-old male backpacker
Sacramento, CA
Occupation: Business Development
Email: private

About
I'm married with 2 toddlers, so my backpacking trips aren't as frequent as they used to be!  Still, I managed to pencil in 5-10 trips a year.  The Sierra Nevada's are my most visited destination.  Mokelumne Wilderness being my favorite with it's high peaks, great alpine lakes and typically not very populated trails.  Rae Lakes Loop, TRT and the JMT are all on my "to-do" list.  Hoping to check off Rae lakes Loop in July of 2018.
My ideal pack is 25lbs, but the whisky and beers usually push it into the 30's...I sleep warm :)
I'm looking forward to bringing both my boys on trips with me.  My oldest has been on several overnight trips with me.  Before the age of 5, he slept above 9K ft.
The past two years, fishing while backpacking has been my new favorite activity.  
Activities
Vitals
| | |
| --- | --- |
| Height | 5'8" |
| Weight | 185 |
| Boot/Shoe Size | 10 |
| Jacket/Shirt Size | M/L |
| Pant Size | 32 inseam |