Erich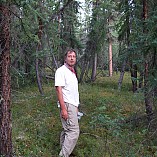 788 reviewer rep
1,447 forum posts
joined May 8, 2008


I am a:
67-year-old wilderness traveler
Location
: Shoreline, WA
Occupation:
Writer/Photographer
Activities
Hiking
Backpacking
Snowshoeing

Backcountry skiing
Canoeing
Mountain biking

Vitals
| | |
| --- | --- |
| Height | 5'11" |
| Weight | 178lbs |
| Boot/Shoe Size | 10 |
| Jacket/Shirt Size | Large |
I started backpacking in the Washington Cascades with my parents in about 1964. In the mid 70's I started climbing, and spent most of my climbing career on the West Coast, before getting out of more extreme alpinism in about 1989. In 2002, I started going on canoe expeditions in Canada's North. My career for more than 20 years, was as a cinematographer on documentaries mainly, but also on commercials and features. My clients included National Geographic, WGBH Boston, the BBC, and the Discovery Channel. In 2002, I switched to print media, writing and photographing environmental and recreational articles, with a primary focus on Canada's North. I'm a bit of gear head, with the caveat that I prefer simple and rugged products and will choose those over saving a few grams or reducing the size by a few millimeters.
Gear Reviews (15)
Articles (17)
| | |
| --- | --- |
| How to Paddle a Canoe: Strokes and Techniques | June 3, 2012 |
| Chaco and Merrell move up and down footwear line | September 7, 2011 |
| Comfortable paddling from Nova Craft, Kokatat, Teva | August 31, 2011 |
| New Product Lines from Old(er) Companies | August 30, 2011 |
| Exped and NEMO help users live outdoors comfortably | August 6, 2011 |
| Mad River Canoe launches Serenade 13, lightweight solo hybrid canoe | August 4, 2011 |
| Outdoor Retailer: Wenonah Recon solo whitewater canoe | August 4, 2011 |
| Outdoor Retailer: Innova goes PVC-free with inflatable kayaks | August 4, 2011 |
| Guide to Canoes and Paddles | July 20, 2011 |
| Choosing Your Canoe: Shapes and Curves | July 10, 2011 |
Forums
Erich has started 5 forum threads and participated in 577 discussions. View all »