Erik Norlock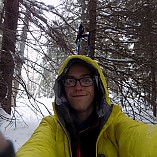 I am a:
backpacker
Location
: Milwaukee , WI
Occupation:
Outfitting Sales Associate and Tester
Affiliations: Current Employer: Yellow Wood Gear We aim to provide excellent service. We want you, our customer, to feel at home in our store; comfortable enough that coming back 'just to talk' will make us just as happy as it was to sell you some of our premier products. The Yellow Wood team partnered to create a premier outdoor gear store. To that end we will share quality functional products that make your outside experience more pleasurable than you ever dreamt. We are strong believers in 'PRO-testing' all of our products. Yellow Wood believes in gear with a conscience, passion for what we do and purpose to create a better society and community.
Activities
Hiking
Backpacking
Snowshoeing
Orienteering
Backcountry skiing
Rock climbing

Kayaking
Mountain biking
Fishing
Bike Packing
Urban Exploration

Vitals
| | |
| --- | --- |
| Height | 6' 2" |
| Weight | 160lbs |
| Boot/Shoe Size | 10-10.5 |
| Jacket/Shirt Size | m |
| Pant Size | 32-34 |
    I currently work at Yellow Wood Gear, a small mountain and adventure outfitter based in Whitefish Bay Wisconsin, just north of Milwaukee. I am part of a small but extremely dedicated staff that live and breath for outfitting and finding the road less traveled. The hard and soft items we sell are chosen and promoted because we believe what those manufacturers is right, should be done more, or is just plain awesome. A majority of the Items are made in america, with some being made by dedicated craftsmen and designers from Europe and Asia. We strive to find chances to help       others find the right fit in the outdoors, at the right price.
     What I find most interesting about the outdoor industry is the focus or actions of the dominant players to hurt the outdoors and remove from that experience. As a small business that was formed by to very forward thinking friends, profit comes second to quality and care. If you ever end up in the Milwaukee area, ask or search around for Yellow Wood Gear and come in. I would be happy to hold a conversation, listen to new ideas, and make new friends.
"Remember…we want to be where you come when you want to take the road less traveled" 
401 e. silver spring drive
whitefish bay, wi 53217
info@yellowwoodgear.com
Page: www.Yellowwoodgear.com
w: 414.332.3636
Time since I have been home to Sweden : 1years : 6months : 23days : 10hours : 25minutes
Most used form of locomotion: Bicycle on open road and trail
Most nights spent on open ground: 3weeks: 4days
Avid hobbyist with large focus on bushcraft, fire making and fire sciences, and wilderness survival. About to reach the rank of eagle in boy scouts, an achievement I only mean to achieve if I can continue to aid scouting after my completion. 
Avid but armature outdoor photography and gear testing.  I have been driven ever since I was miserably uncomfortable on my first backpacking trip to change my experience for the better, push myself to being miserable, and making sure it could be done within my economical and ecological 
More To Come....
Gear Reviews (1)