Erin Marie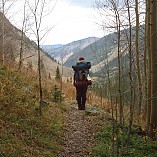 I am a:
hiker
Occupation:
Wildlife Biologist
Activities
Hiking
Backpacking
Snowshoeing
Backcountry skiing
Mountaineering

Ice climbing
Rock climbing
Canyoneering
Kayaking
Mountain biking

Vitals
| | |
| --- | --- |
| Height | 5'4" |
| Weight | 135 |
| Torso Length | 16" |
| Boot/Shoe Size | 9-9.5 |
| Jacket/Shirt Size | M |
| Pant Size | M |
I'm a Colorado gal through and through. I grew up in Colorado, and currently work as a wildlife biological technician.  I have a B.Sc. in Zoology with a double concentration in General Zoology and Ecology, Evolution, and Organismal biology.  I've spent the past nine years moving all over the country/world to work and to travel. 
About work:
My job is super demanding - I spend about 90% or more of my time in the field, doing a variety of wildlife surveys.  During the off-season, I also do a fair bit of farming work to cover the bills.  I've lived in Colorado, Oregon, Alaska, California, Idaho, Michigan, Indiana, New Mexico, Arizona, Hawaii, Guam, and New Zealand, doing a a number of jobs, and have traveled through Canada, Mexico, Tanzania, Vietnam, Laos, Cambodia, Myanmar, Thailand, Scotland, and Australia. 
My resume looks something like this:
For wildlife work, I've done surveys on bats; frogs; salamanders; snakes; wild horses; a variety of owls and raptors; predator surveys for bear, marten, fisher, wolves, and wolverines; small mammal surveys; bighorn sheep monitoring; a rabies study that involved live-trapping mesocarnivores; collecting poop for scat surveys; and doing game camera surveys.  I've also performed endangered bird monitoring and a lot of invasive predator trapping and removal.  I've spent 9 months working as a fisheries monitor on crab boats in the Bering Sea in the dead of Alaskan winter, and have also served on a trail crew building trails in the Gila and Lincoln National Forests.   
Other jobs I've done when there's no funding for wildlife work include: working a ski lift in Colorado, dairy farming and lambing in NZ, breaking horses to saddle, mushing sled dogs in Alaska, working at veterinary offices, working in laboratories, taking care of lab rodents, working at dog boarding kennels, and packaging things in giant warehouses. 
Along with being a jill-of-all-trades in the workplace, I enjoy a large variety of outdoor recreational pursuits like hiking, backpacking, rock climbing, ice climbing, cross-country skiing, kayaking, SCUBA diving, adventure motorcycling, trail riding horses, photography, and just generally exploring the bounties of nature. 
I'm a Wilderness First Responder, am red-carded (wildland fire FFT2 certified), have taken a week-long Alpinism class through the American Alpine Institute, am an experienced Horse packer, and have even earned a certificate of insanity for taking an alligator handling class in Colorado of all places... (I'm also a master of the run-on sentence).
Of the more outdoorsy accomplishments, I've hiked 24 of Colorado's 58 14ers (14,000ft.+ mountains), climbed Mt. Kilimanjaro via the Whiskey Route (2008), did Mt. Kosciuszko in (2013), summited Mt. Baker in WA (2012), and slogged up South Sister in OR (2015).
I've also done the 75km West Coast Trail on Vancouver Island, B.C. (some of the best fun to be had on this planet - ladders, sketchy bridges, cable crossing, beach walks, temperate rainforest, and driftwood bonfires. Honestly what more DO you want?).  
I've traveled through almost all the National Parks out west in both the US and Canada. (Hopefully I can finish visiting the rest in the near future!)  My personal favorites are Olympic, Redwoods, Glacier and Banff/Icefields Parkway. 
Upcoming goal - motorcycling from Barrow, AK to Ushuaia Argentina, back to Colorado... and whatever else comes up spontaneously between now and then.  
Cheers!  If you have any questions for me, feel free to ask, I'm happy to help!
Gear Reviews (1)