Eugene Bodrero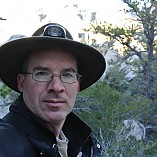 I am a:
52-year-old backpacker
Location
: Utah
Occupation:
Product Engineer
Website:
http://www.Dyacon.com
Activities
Hiking
Backpacking

Mountaineering
Rock climbing

I own an electronic instrumentation company, dyacon.com. I define, design, document, and test electronic products on the fun days and manage the business on the bad days. Fortunately, I have a great team.
I've been backpacking for 30 years and still use my DanaDesign Terraplane pack purchased in 1989. I also do rock climbing and am a climbing instructor/director for the Boy Scouts.
I practice leave-no-trace methods and love hiking, camping, and backpacking with my 3 kids.
Destinations include Uinta mountains, Wind River range, Hell's Canyon, City of Rocks, and many places in the Cache National Forest and areas in Idaho. I'm fortunate to live close to some of the best venues in the world.
Gear Reviews (5)