Explorer Robby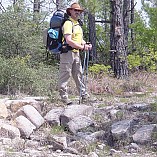 Full Name: private
49-year-old male backpacker
Prairieville, LA
| | |
| --- | --- |
| Re: Urban bivouac'ing during Hurricane Irene -- What gear do you suggest to have on hand for "hunkering down" ?? | August 27, 2011 |
| Re: Watch this video if you are interested in steam baking - Cakes, Muffins, Breads, etc. | August 20, 2011 |
| Re: Watch this video if you are interested in steam baking - Cakes, Muffins, Breads, etc. | August 19, 2011 |
| Re: Illegal Campsites | August 16, 2011 |
| Re: Illegal Campsites | August 16, 2011 |
About
From MS, live in LA. We regularly backpack LA, MS and AL (at least 2 weekends per month). Also have several trips planned each year to other states. I do some solo backpacking, but more often my wife is with me. We have a group of friends (mostly from other Southern states) that we plan several trips per year with.
I have 4 children, 2 of which (the younger ones with no choice) sometimes backpack with us.
My style of backpacking is light (not ultra-lite) but comfortable. When solo, I shoot for big miles each day, much lower when with others.
Activities
Hiking
Backpacking

Kayaking

Vitals
| | |
| --- | --- |
| Height | 5' 8" |
| Weight | 165 |
| Torso Length | 18" |
| Boot/Shoe Size | 8 |
| Jacket/Shirt Size | Medium |
| Pant Size | 32X32 |