freedeep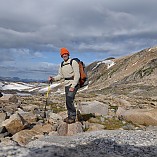 Location
: Apex, MT
Occupation:
Aircraft Design Engineer now retired
Activities
Hiking
Backpacking

Backcountry skiing
Resort skiing

Vitals
| | |
| --- | --- |
| Height | 5 ft 8 inches |
| Weight | 170 |
| Boot/Shoe Size | 9.5 |
I love the outdoors.  Hiking in the summers, and downhill skiing in the winters, some back country skiing in the untracked powder.  The worse the weather is the more fun it is being there.  Years ago I worked as a Thermal Researcher in Yellowstone National Park, started there in 1987.  I was always outside regardless of weather.  Later as a Mechanical Engineer I spent many years working in buildings with no windows. Decades of creating Catia designs on computer screens doesn't seem to have affected my eyes at all.   BUT....In the end it is always nice to be outside. 
I have trained in Canada on the ice-fields, you always needed to be prepared.  Years later I bumped into a old guy at Jasper Lake.  He was maybe late 70's or older, he told me my pack was too big, too heavy, don't make his mistakes by slowly reducing weight, just do it...reduce pack weight.  I'm in my 60's, getting older, so I took his advice, and went from a fully prepared 65 pound pack to 37 pound pack which includes food for 2 weeks. Thanks Karl.  
My wife says I remember the old days too often when storms would last a week or more, in town.   Snow drifts up to the roof gutters, and chained up road graders stuck in drifts in front of our house in Bozeman. 
I don't travel so prepared now, and the going is easier.
Gear Reviews (5)
Forums
freedeep has participated in 1 discussion. View all »