G00SE
Reviewer of the Month: February 2014 ,
May 2016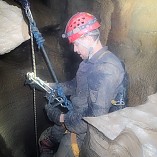 I am a:
male caver
Location
: Carlinville, IL
Occupation:
Adventure Educator
Affiliations: Standards Review Committee--Association of Challenge Course Technology (ACCT)
Activities
Hiking
Backpacking
Snowshoeing

Caving
Road Biking
Running

Vitals
| | |
| --- | --- |
| Height | 6'2" |
| Weight | 160lbs |
| Boot/Shoe Size | 10.5 |
| Jacket/Shirt Size | 42L |
| Pant Size | 32x34 |
I run an Adventure Challenge program in central Illinois called Eagle Crest Adventures. High Ropes, Professional Team Building, Escape Rooms, and Client Coaching are the bread 'n butter of my work. I work with a wide range of clients, from jr. high youth to Fortune 500 Execs.
When I'm not at work, I'm caving, running marathons, biking, hiking, or camping (or doing all three at once). My camping ranges from using the pop-up camper with the wife and kids to week-long backpacking.
In March 2013, I was diagnosed with osteoarthritis in both knees. In order to continue with hiking and backpacking, I have started using trekking poles and moved to an ultralight approach. I am a hammock camper, with no plans to ever sleep on the ground again.
Gear Reviews (149)
Trip Reports
| | |
| --- | --- |
| Discovery of Hazel Creek Crawl Cave | September 20, 2018 |
| Blackfathom Cave | September 5, 2018 |
| End of 2017 Caving Trip | January 3, 2018 |
| T.A.G. Fall Cave In | October 10, 2017 |
| Boundary Waters Canoe Area Wilderness-Sept '17 | September 19, 2017 |
| Early December Caving in T.A.G. | December 23, 2016 |
| Daughter's First Vertical Caving Trip | November 21, 2016 |
| Christmas Caving with the Kids | December 30, 2015 |
| Caving Last Weekend | December 13, 2015 |
| Mt. Rainier--My first mountaineering experience | September 29, 2015 |
| Smith's Blowhole Cave | December 15, 2014 |
| Southern Appalachian Caving Trip | October 31, 2014 |
| Boundary Waters Wilderness Canoe Area Sept 6-13, 2014 | September 19, 2014 |
| Fredricksburg Cave | September 2, 2014 |
| Father's Day Caving (claustrophobia free trip report) | June 16, 2014 |
| River To River Trail April 2014 | April 20, 2014 |
| A Walk in the Front Range | March 4, 2014 |
| My Daughter Called Me "Fat" | January 7, 2014 |
| Testing the limits of my hammock | November 24, 2013 |
| Sullivan Cave Part 3--VIDEO | October 9, 2013 |
Forum Posts
| | |
| --- | --- |
| Discovery of Hazel Creek Crawl Cave | September 20, 2018 |
| Outfitting at Walmart. | August 14, 2018 |
| Startup Needing Your Input! | September 16, 2018 |
| Blackfathom Cave | September 5, 2018 |
| Guy jumps into snow and gets more than he bargained for. | January 27, 2018 |
| Geezerhood and backpacking | February 9, 2018 |
| Sleeping Bag | January 29, 2018 |
| How many people in the US go trekking/hiking? | January 23, 2018 |
| Outdoor Retailer Winter 2018 | January 22, 2018 |
| What age to start kids into winter backpacking? | January 23, 2018 |
| Cleaning Titanium | January 22, 2018 |
| Mice... | January 19, 2018 |
| Hello world. (Intro and gear list review request) | January 23, 2018 |
| This is not good news | January 16, 2018 |
| Ibex merino | December 1, 2017 |
| Trekking Poles: Do you really need them? | September 21, 2017 |
| Layering System and Recommendations for a Beginner | January 2, 2018 |
| Backpacking Trip 5-7 Days | January 3, 2018 |
| Thoughts about cold weather | January 3, 2018 |
| Trailspace at Point Reyes | December 29, 2017 |