Mike aka Garage Sale @Garage sale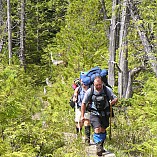 I am a:
52-year-old out doors
Location
: Nimpo Lake, BC
Occupation:
Retired
Affiliations: My DNA is on the floor of many outdoor stores in the form of drool, but otherwise no affiliations.
Activities
Hiking
Backpacking
Snowshoeing
Backcountry skiing

Kayaking
Mountain biking
Fishing
Ski and cycle touring

Vitals
| | |
| --- | --- |
| Height | 5'9 |
| Weight | 200 |
| Boot/Shoe Size | 10 |
| Jacket/Shirt Size | XL |
| Pant Size | 38 |

I started hiking with the Boy Scouts on the north end of Vancouver Island and fell in love freedom and the escape it provided me from home, from then on hiking has always set me free despite the sometimes torturous days. A couple years later we moved to Vancouver, back when schools still had activities and clubs. I joined the hiking club. I spent the next several years hiking through the areas costal mountains. As I got older the trips got longer and farther away. Then I got a real job ! I saw my hiking go from two or three times a month to two or three times a year. After 21 years I have now retired and looking forward to getting my trail miles back up. . I have hiked all over the Province and some in Washington and Utah. I have completed the West Coast trail twice, Stein Valley, Cape Scott, Juan de fuca marine trail long before it had a name, several in Manning park, and countless little know hikes.  Tweedsmuir park is now literally my back yard.
On the First West Coast Trail trip I was given the unfortunate trail name (pretty sure that trail name wasn't even in the hiking vernacular back then) of Garage Sale, when two hikers came into our camp as I had all my gear spread out on a tarp, one of them remarked it looked like I was having a garage sale. From that day forward each time we saw them thats what they called me and it has stuck. Back then I hated it, then I embraced it.
I still have two of the same hiking partners from way back in grade 8. I also enjoy ski touring and cycle touring
I am as comfortsble solo hiking as I am in a group, but sometimes only solitude will do. Often when hiking with partners we split up in the morning and meet up at the next junction or camp.
I currently live way off grid in the middle of nowhere at the base of the coast mountains on the opposite side from where I grew up.
Gear Reviews (2)
Forums
Mike aka Garage Sale has started 1 forum thread and participated in 7 discussions. View all »