Gareth Davies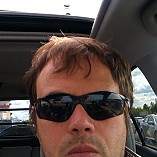 I am a:
48-year-old forestry field technician
Location
: Stanley, New Brunswick
Occupation:
forestry professional
Website:
http://hemiborealskiing.blogspot.ca/
Activities
Hiking
Backpacking
Snowshoeing
Backcountry skiing
Mountaineering

Canoeing
Mountain biking
Fishing
Forestry field work

Vitals
| | |
| --- | --- |
| Height | 5'10" |
| Weight | 185lbs |
| Boot/Shoe Size | 9US (42-43EU) |
| Jacket/Shirt Size | M-L |
| Pant Size | 32/32 |
I live on farm-woodlot in rural New Brunswick, Canada with my wife Rebecca and our 4 children.  I am a forestry professional (ecologist-silviculturalist) with 20 years work experience (I was a professional logger/faller for more than 10 years).  My outdoor interests are very wide from sailing and canoeing ,to mountain biking, to alpine and xcountry skiing.  My true passion is being out- off-trail in forests and mountains- either with a muti-day pack/hike; or with my backcountry skis on.  I lived in BC for 4 years where I did a fair bit of backcountry alpine skiing.  My everyday skiing in New Brunswick and Quebec is off-trail xcountry/light telemark (i.e. stride and glide with burly xcountry boots and XCD skis).  If I had to pick my favourite activity it would have to be a cold, clear winter morning, with lots of fresh snow to stride through.  Although I am comfortable in alpine ski gear- nordic skiing is my true passion.
Gear Reviews (11)