GaryPalmer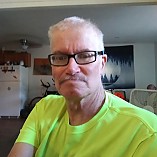 253 reviewer rep
5,469 forum posts
joined Oct 12, 2008


I am a:
66-year-old backpacker
Location
: Flagstaff AZ, AZ
Occupation:
Retired February 2018
Email:
gcpflagaz56@gmail.com
Activities
Hiking
Backpacking
Snowshoeing
Trail running
Orienteering
Backcountry skiing
Mountaineering
Canyoneering
Geocacheing
Canoeing
Mountain biking

Fishing
Photographer
bicycle tourer
desert rat/hiker
5.10 canyoneer
Adventure traveler
Bacakpacker
Etc
Etc
Etc

Vitals
| | |
| --- | --- |
| Height | 6' 6" |
| Weight | 230 lbs |
| Boot/Shoe Size | 13-14 |
| Jacket/Shirt Size | Medium-large |
| Pant Size | 34x36 inches |
I am a 65 year old, veteran of hiking, camping, traveling, bicycle touring and photography. I have been all over the USA since my first solo trip in 1977 at age 21. Before that I was a Boy Scout and grew up in the country playing in the woods and camping in them with friends. I never grew tired of being outdoors.
I hitchhiked 10,000 miles in the summer of 1977, ending up after going around the lower 48 states, in Alaska where I lived, working winters and hiking summers for 2 1/4 years. After returning to my parents home in Arkansas I started traveling extensively for 1 1/2 years and stayed to working just a few months a year (summers) and taking to the road by bike and the trails by foot the 6-9 months of the year I am unemployed by choice.
I have never owned a house, car (don't even know how to drive) or had any major bills. I spend way to much living in towns when I stop to work summers compared to what I live on 6-9 months a year at around $200-$300 a month, more for cycling than hiking. I bike tour about 5000 miles a year and hike about 2500 miles year on trails and routes thru the woods.  More than often I follow game trails and river beds and only do tourist trails when I don't know my way around or just want to see the sights in parks.
I recently retired at age 62 and am now just an adventure traveler as I have been since June 15th 1977, 41 years today!
Gear Reviews (19)
Forums
GaryPalmer has started 1,039 forum threads (including 191 trip reports) and participated in 2,860 discussions. View all »